Support New Zealand's research priorities
Building capabilities within national research collaborations
NeSI continues to provide support to some of the largest national research collaborations in New Zealand, including QuakeCoRE and the Deep South National Challenge. Although the transition between platforms in 2018 led to a period of lower usage for some research groups, this quickly picked up once the new platforms were in operation.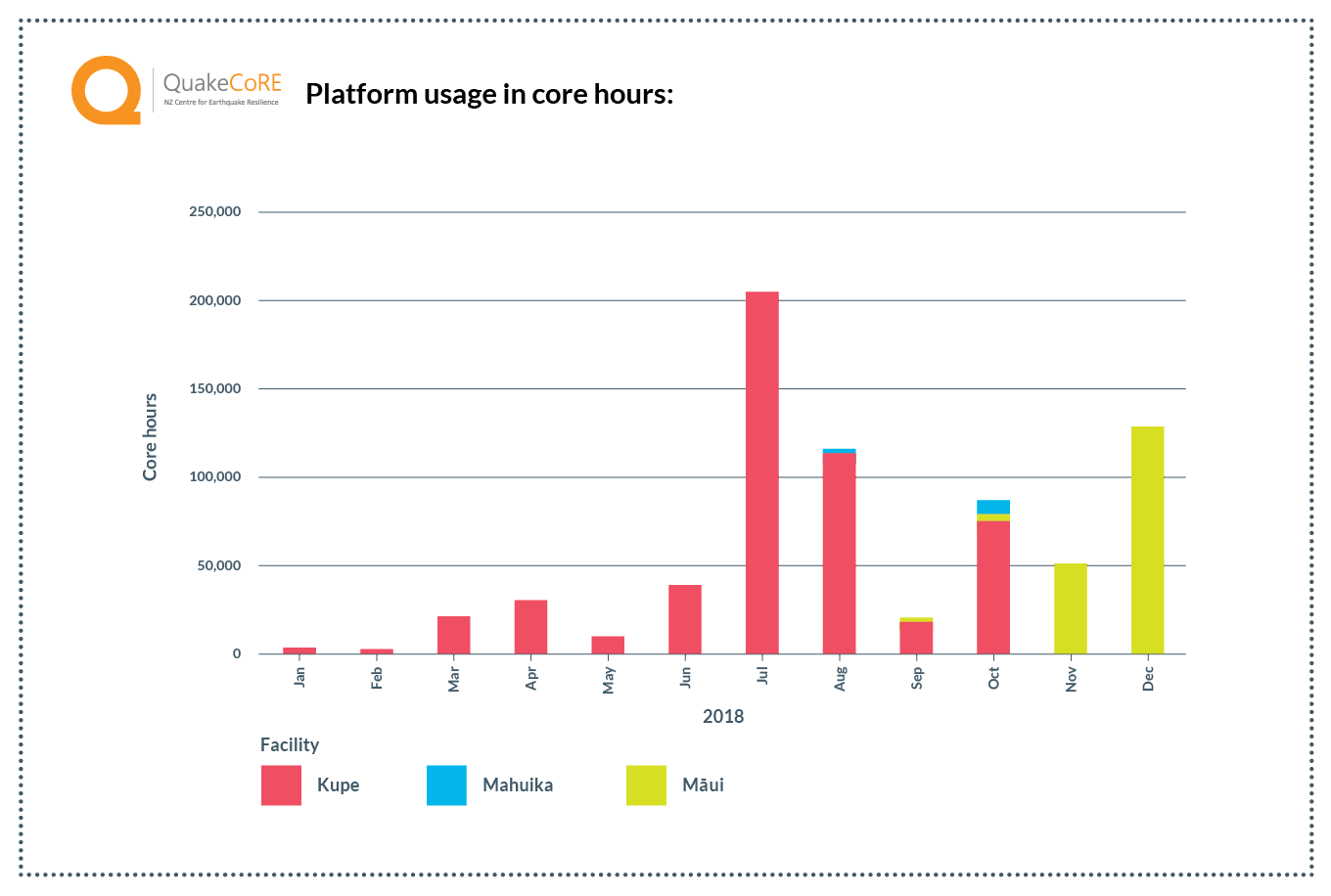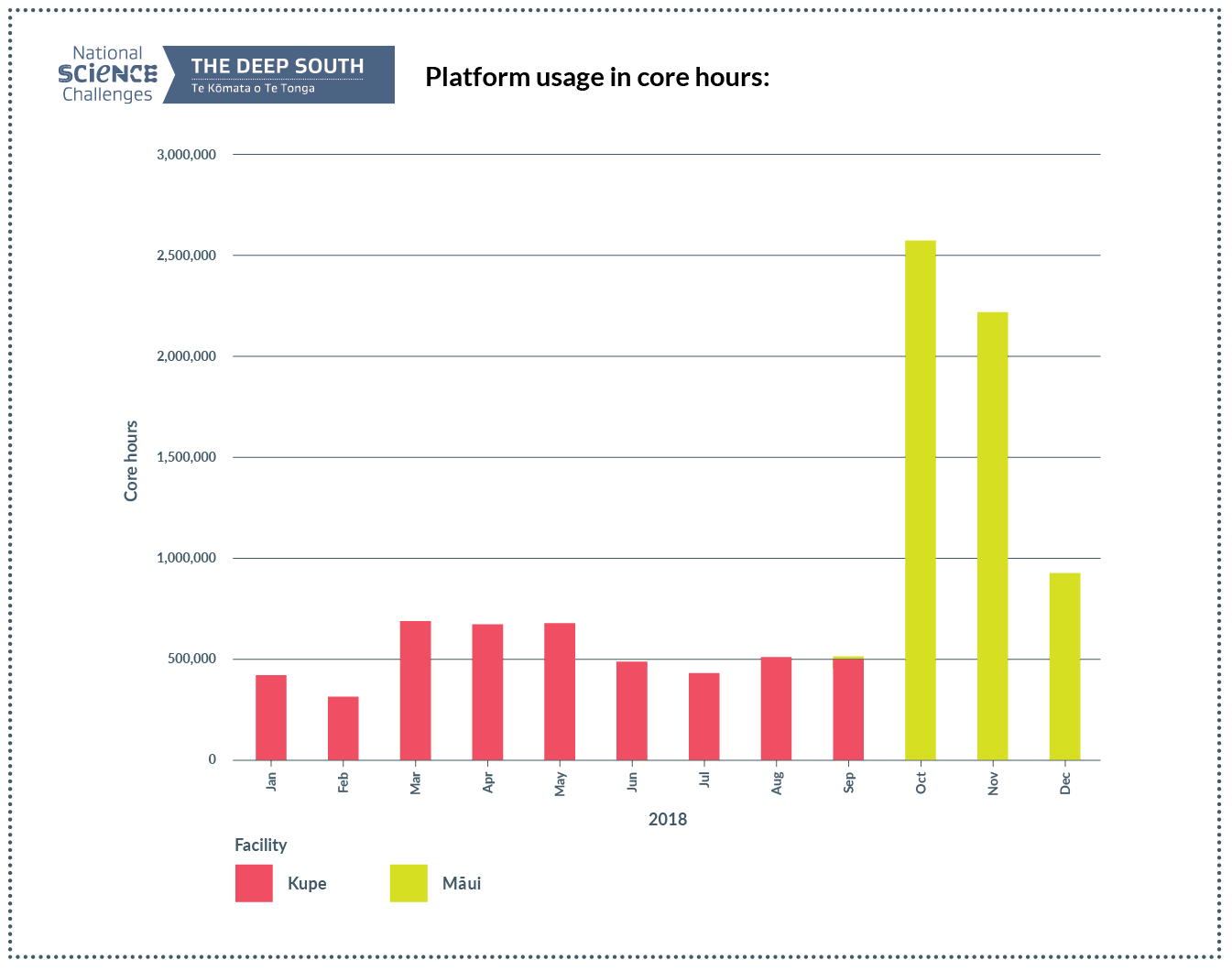 Advancing genomics capabilities in New Zealand
In December 2018, NeSI and Genomics Aotearoa announced a partnership to deliver advanced capabilities and enhanced tools for genomics research in New Zealand. Working with NeSI's newly launched platform and its specialist team of experts, Genomics Aotearoa research projects will be able to tackle the largest scales and complexities of data available in New Zealand, enabling them to participate in and lead the rapidly developing fields of genomics and bioinformatics. To underpin this partnership, NeSI recruited new bioinformatics expertise to work alongside Genomics Aotearoa researchers to better understand their current and future needs, while also assisting with code optimisation and deployment, genomics application installation, onboarding researchers new to using NeSI's platform, and other support activities.
"This capability will allow New Zealand to undertake world-class research in what is a very fast-changing field, and will support researchers to respond to New Zealand's unique needs in health, environment and primary production."
Embracing a diverse research sector
Throughout 2018, NeSI continued to support a broad range of research disciplines from its traditional big user communities of earth science and chemistry, to newer communities such as medical science and biology. There has been good growth, across a range of disciplines, in the number of active projects each year since NeSI started, with plenty of potential to grow outside of the core user disciplines.

Setting data transfer records on REANNZ
Strategic Science Investment Fund (SSIF) infrastructure plays an essential role in the delivery of services and support to New Zealand's research sector. A prime example of this was demonstrated in May 2018 when a record level of data travelled over the Research and Education Advanced Network New Zealand (REANNZ) as NeSI began moving the first wave of its users' research data to its new platforms.
Tens of millions of files and hundreds of terabytes of data were migrated between NeSI's Pan cluster at the University of Auckland and its new supercomputer, Mahuika, at NIWA's High Performance Computing Facility (HPCF) in Wellington. Over the course of several weeks, NeSI support staff copied and synchronised the research data on Pan to move it over to the new platform's storage facilities at the HPCF. Using REANNZ was essential for supporting this massive transfer, as REANNZ's high capacity, high-speed network was able to handle the loads with little to no disruption to its regular operations.
Overall, NeSI and REANNZ's working relationship remained strong in 2018, with both organisations focused on contributing to priority research areas and delivering long-term beneficial impacts to New Zealand's health, economy, environment and society.
Expanding and targeting support efforts
Understanding the research we support is critical to improving our services and identifying which disciplines or research groups should be targeted for further support. In 2018, a new Research Communities Advisor was recruited to take a more active role in understanding NeSI's user base. Further growth in this team is also planned for 2019.
Also, NeSI's project application form was reviewed in 2018, and changes were implemented to improve our information collection methods via this process.
Growing broader sector uptake and impacts
NeSI has seen continued uptake of subscriptions within the research sector, comprised of new organisations as well as maintained relationships with subscribers from previous years. By the end of 2018, NeSI had active subscription contracts with nine organisations outside of NeSI's four collaborators.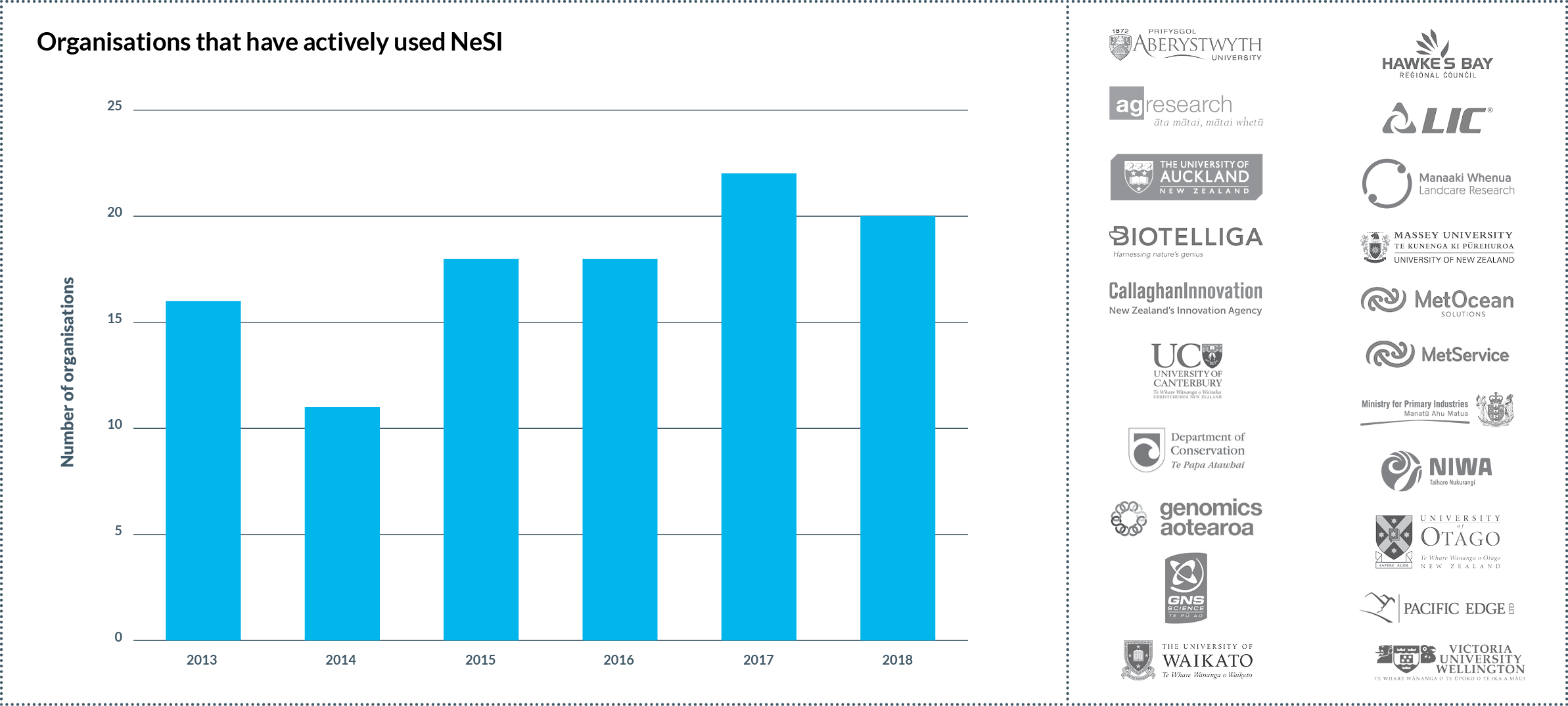 Showcasing impacts and benefits to research
Twenty case studies were published in 2018, highlighting the ways NeSI resources, support, and expertise delivered impact and benefit to the New Zealand research sector. The case studies profiled researchers based at NeSI's collaborator institutions as well as those working with AgResearch, GNS Science, QuakeCoRE, Victoria University of Wellington and projects supporting the Biological Heritage National Science Challenge, Genomics Aotearoa, the UK Met Office, the New Zealand Software Carpentry community, and the New Zealand and Australian Research Software Engineering communities.