Data services
High-speed data
transfer

 

Move gigabits of data on a network 1,000 times faster than broadband Internet. Powered by REANNZ, research data transfers can be done at 10Gbps. Read more about REANNZ network.

Secure and easy data sharing

 

Share your research data using Globus with collaborators and your audience. Control who has access to your data using group management tools. Learn how to share data using Globus.

Research data delivery network

 

Take advantage of our partnering institutions with existing data delivery network nodes. Transfer to and from any laptop or server using a Globus connect endpoint. See the list of NZ data transfer nodes and learn how to configure personal Globus endpoint.
Is it for me?
Do you have large datasets that need transferred between collaborators or from an instrument to NeSI's computational environment? NIWA climate scientist Dr Jonny Williams sent 11 terabytes in 24 hours to research counterparts in the UK.
Contrary to what you might expect, there are no major challenges involved in a data transfer this big. It's dead easy, says Jonny. So much so that he didn't give the size of the transfer a second thought. That's all down to the quality of the specialist REANNZ network, as well as NeSI's data transfer platform and Globus software used to send and receive data.
Read more from this REANNZ case study.
Here's another case study that highlights moving of 100 terabytes of data between USA, NeSI, and Dunedin.
The researchers had to get up to 100 terabytes of data from the United States, send it in chunks for processing at a NeSI supercomputer in Auckland, then get the results back to Dunedin, says David Maclaurin... Read more
Get started now - for Researchers
Note: If you're looking for a data transfer solution for your institution, facility, or instrument, see at the end of this page on how to
join and connect
your end point into the national and global platform.
Features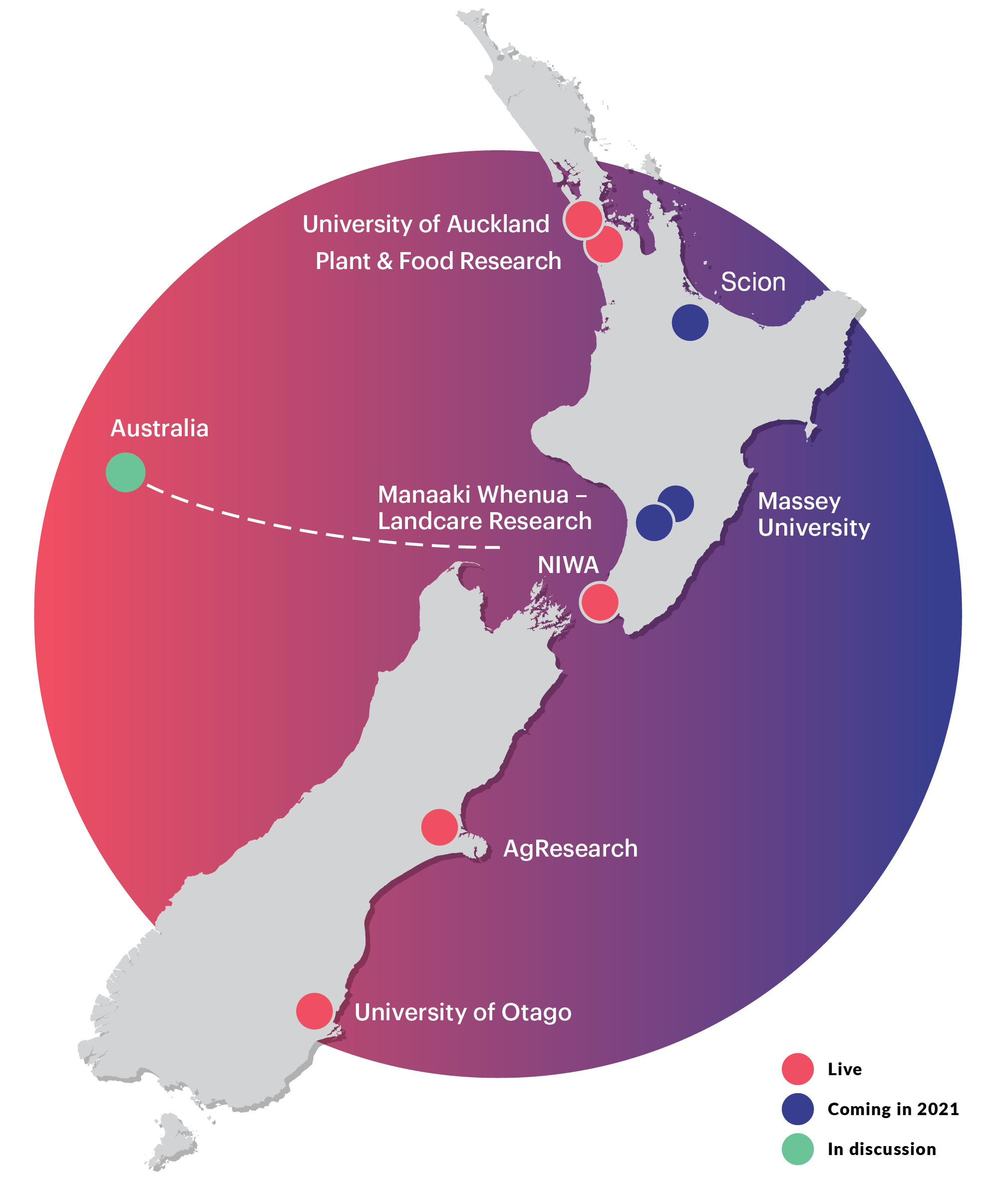 Delivering this national scientific Data Transfer platform is a collaborative effort, involving participation from national network provider REANNZ, international partner Globus, several innovative research institutions across New Zealand, NeSI collaborators  — the University of Auckland, the University of Otago, Manaaki Whenua - Landcare Research, NIWA — and support from the Ministry of Business, Innovation and Employment.
For an overview of the national Data Transfer Platform and an introductory demo of how to use Globus to transfer data, watch our video below, delivered as a webinar in May 2019:
Join our worldwide network
NeSI's data transfer interface is powered by Globus, providing you with fast, secure, and reliable transfers. Globus has over 20,000 endpoints around the globe supporting researchers worldwide.
If you are an institutional representative and would like to join Globus' worldwide network of institutional endpoints, NeSI can help. Talk to us to set up a Globus Data Transfer Node (DTN) at your institution.
Data transfer and share is just one of the ways NeSI is supporting New Zealand's research sector. Click here to learn about our other services and resources or contact support@nesi.org.nz to discuss further.