Data services
A national platform for sharing research data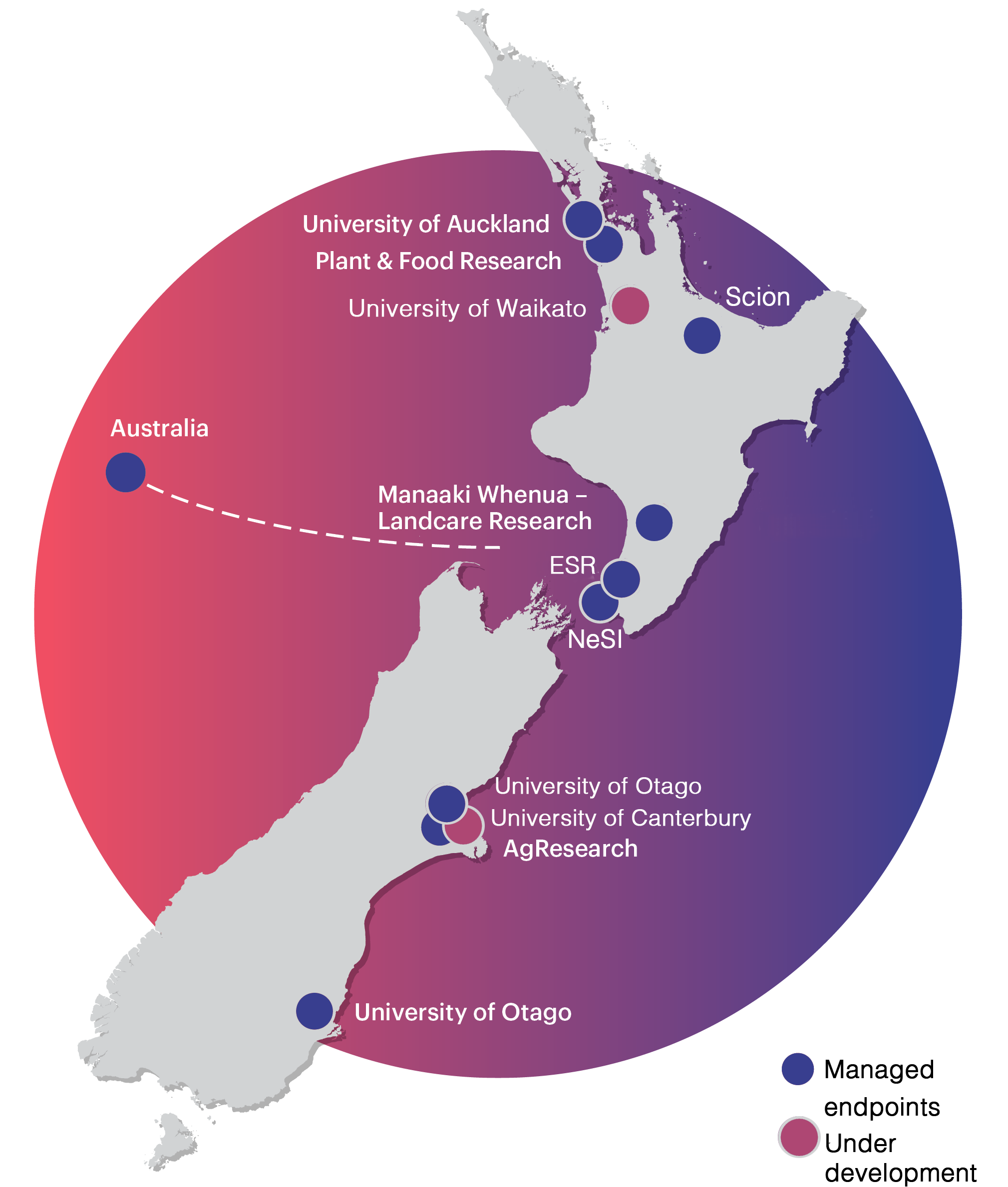 Aotearoa New Zealand's National Data Transfer Platform is delivered through a partnership between NeSI, REANNZ, Globus, and research institutions across the country.  
Our growing network of managed endpoints are linked to Globus' global network of institutional and personal endpoints, providing secure, reliable, and fast data transfer within New Zealand and internationally. 
New managed endpoints in Aotearoa New Zealand are brought online through collaborative efforts across NeSI, REANNZ, and the IT support teams at the participating institutions.
Across the Tasman, Globus services offered through AARNet (Australia's Academic and Research Network) continue to expand, bringing on new managed endpoints and integrating Australia's significant scientific instrument investments into the Globus network.
Who can use the platform?
Any researcher or research institution based in New Zealand can access the National Data Transfer Platform to transfer and share research data using Globus. 
If in doubt, please get in touch.
What can you do with Globus?
​

"...it hasn't just sped up a workflow it's actually enabled a new workflow; that is, to routinely shift multiple tens or hundreds of terabytes around the world at the click of a button."

- NIWA climate scientist Dr Jonny Williams. Read a case study about how he's using Globus, REANNZ, and NeSI's HPC Platform to transfer and process climate modelling datasets.
Get started
Researchers
Institutions
If you'd like to join the National Data Transfer Platform and host a managed endpoint at your institution, let's chat.
Learn more
Building capability through partnerships
Delivering the National Data Transfer Platform is a collaborative effort, involving participation from national network provider REANNZ, international partner Globus, several innovative research institutions across New Zealand, NeSI Collaborators  — the University of Auckland, the University of Otago, Manaaki Whenua - Landcare Research, NIWA — and support from the Ministry of Business, Innovation and Employment.

Technical documentation
Questions?​