Partners & Pricing
NeSI has rich experience and advanced capabilities in high performance computing and data science engineering focused on powering New Zealand's science.
Partner with us
NeSI is open to working with public and private organisations involved in research, and has a range of ways you can engage with us:
Collaborators 
NeSI is founded in collaboration, and is always open to discuss opportunities to extend and enrich its network of Collaborators.

​Partnerships
NeSI works with research communities and institutions, offering our expertise and capabilities to underpin their partnership goals.

Service Subscriptions
NeSI has a range of services you can access to build your research capabilities.
---
Collaborators

NeSI is a collaboration between:
NeSI's Collaborators own the core infrastructure assets, which NeSI has a key role in designing, procuring, and operating for the wider research system. NeSI team members are employees at Collaborator institutions, and operate as a national team supporting and enabling research across the full range of Aotearoa New Zealand's research ecosystem.
Learn more about NeSI and our background.
Partnerships
Partnerships with research groups and organisations is central to how NeSI delivers services to research communities and supports national research priorities. Through our partnerships, we aim to build computational and data science capabilities within Aotearoa New Zealand's research system.
Below is a sample of the kinds of partnerships NeSI is involved with.
Platform Partnerships
Capability Building Partnerships
Research Partnerships
Community Partnerships

If you're interested in partnering with NeSI, drop us a line.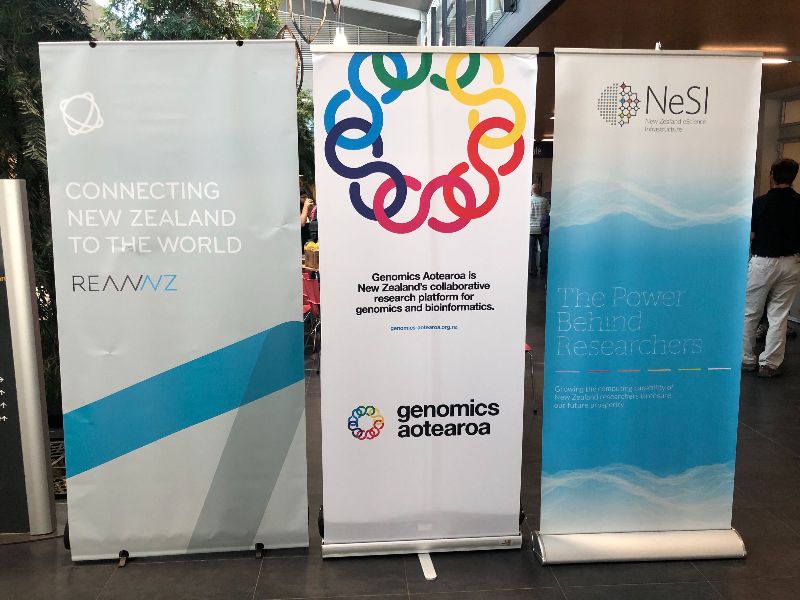 Attribution: 
The eResearch NZ conference is co-hosted by NeSI, Genomics Aotearoa, and REANNZ.
---
Service Subscriptions
NeSI has a range of options for accessing its services and building your research capabilities. Subscribing to NeSI's services provides you with:
Managed entitlements on NeSI's HPC platform for your research projects and programmes. This includes access to:

high-capacity CPUs, GPUs and high memory nodes

interactive computing via Jupyter Notebooks, containers, and virtual lab environments

an extensive pre-built software library

data storage for compute, from the highest performance storage on NeSI's HPC platform or via NeSI's long-term storage Nearline Service

Personalised support to assist your researchers across the breadth of their NeSI experience, from applying for projects/allocations, to getting their projects running on the platform, to general troubleshooting or experimenting with new tools or techniques.

Targeted support for building researchers' computational skills and capabilities. NeSI's Consultancy Service provides dedicated scientific and HPC-focused computational and data science support to research projects across a range of domains.

Advice and partnership on advanced research computing strategies and collaboration on shared goals.
Pricing
The following standard pricing covers NeSI's core service offerings:
Services
Pricing
 
Public sector &
not-for-profit
Commercial
Research Software Expertise
Computational science and data science engineering Consultancy
(per hour)
$150.00
$300.00
High Performance Computing (HPC) and Data Analytics
Mahuika Broadwell* HPC core hours
(per CPU core hour)
$0.05
$0.07
Mahuika Milan** HPC core hours
(per CPU core hour)
$0.08
$0.09
Māui HPC core hours
(per CPU core hour)
$0.05
$0.07
P100 Graphical Processing Unit (GPU) hours
(per GPU hour)
$0.35
$0.40
A100 Graphical Processing Unit (GPU) hours
(per GPU hour)
$0.90
$1.00
Research Data Management
Nearline long-term storage
(per Terabyte per year)
$30.00
$37.50

Persistent storage (>2 TB)


(per Terabyte per year)
$150.00
$187.50
National Data Transfer Platform membership & managed endpoint
(per year)
$2,000.00
$P.O.A
Last updated July 2023 - prices are subject to change.
 
*Mahuika Broadwell nodes are the original Mahuika CPUs and are currently the default CPU for Mahuika users.
**Mahuika Milan cores are the newest CPU nodes in Mahuika (part of what has been called the Mahuika Extension 2021/2022). To use these you need to actively select the Milan partition.
If you have questions or would like to learn more about a Subscription to NeSI Services, get in touch.