Advancing the wellbeing of Aotearoa New Zealand through co-designed solutions
NeSI has kicked off a new collaboration with Genomics Aotearoa's Rakeiora project, a "pathfinder" programme to test options to acquire, protect, use and store genomic datasets for use in healthcare research in Aotearoa New Zealand. 
Funded through MBIE, the Rakeiora project aims to enable researchers to translate genomic knowledge into health practices that advance the wellbeing of New Zealanders, and in particular address the country's health inequities by developing genomic tools that put the needs and priorities of Māori at the centre. 
NeSI is contributing to the design and development of analytical and storage components that will underpin the biorepository for genomic and clinical data. The focus is on understanding the feasibility of the approach and on generating a testable prototype, including through establishing shared engagement and leadership in longer-term areas of value to both organisations, and in a Māori community-led kaupapa approach.
"NeSI and the Rakeiora project team recognise that this programme is only successful if it is led by tikanga Māori-informed approaches and operates in partnership with its constituent communities. We're aiming at mutually beneficial development in those areas," says Nick Jones, NeSI Director. "For NeSI in particular, at its essence this involves relationships underpinning our approaches to Māori data sovereignty, and building our capabilities in supporting research involving sensitive data and privacy considerations, and proactive steps toward a medium term cybersecurity capability."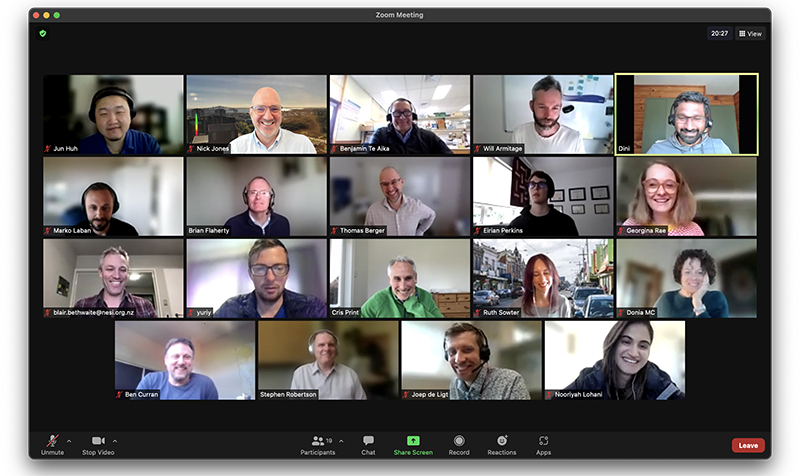 Attribution: 
Members of the NeSI Team and Rakeiora Project collaborating over Zoom.
The Rakeiora programme is co-led by Prof Cristin Print (University of Auckland), Prof Stephen Robertson (University of Otago), and A/Prof Phillip Wilcox (University of Otago, whose iwi affiliations are Ngāti Rakaipaaka / Rongomaiwahine / Ngāti Kahungunu), and includes Principal Investigators Frances King (Ngāti Porou Hauora) and Dr Donia Macartney-Coxson (ESR). Also involved are Project Manager Ben Te Aika (Ngāti Mutunga, Te Ati Awa, Kāti Wairaki, Kāti Mamoe, Waitaha), Dr Helen Wihongi (Waitematā DHB, also Ngāti Whatua me Ngāti Porou), Irene Kereama Royal (Unitec, Hauraki, Ngāti Kahungunu) Ngāti Porou Hauora (NPH) kaumātua Tuta Nihoniho, Caroline Koai (Rakeiora Research assistant), and other members of the NPH co-design team Mike Timu, Rhonda Tibble and Huti Watson.
The programme's expected outcomes will include:
Genome sequences from hundreds of individuals co-led and co-governed with Māori, stored securely and accessible for ethically approved and consented research

Data linkable and protected with careful governance and approval to primary and secondary care health data and National Health Datasets

Recommendations for process and platform scale up as a part of a reformed approach to health in support of Māori communities

Knowledge on how to apply research for health benefits
For more information on the Rakeiora project, visit the Genomics Aotearoa website.