Building a treaty-compliant data archive for New Zealand's taonga species
NeSI has been collaborating with Genomics Aotearoa to build a national repository that provides a secure place for the New Zealand research community to store and to share genomic data within a Māori values context, following the principles of Māori Data Sovereignty.
"Version 1" of the Aotearoa Genomic Data Repository (AGDR) has launched and researchers are invited to browse, deposit, and request access to data sets via the data repository. Behind the scenes, NeSI and Genomics Aotearoa developers are continuing to improve functionality and implement new features.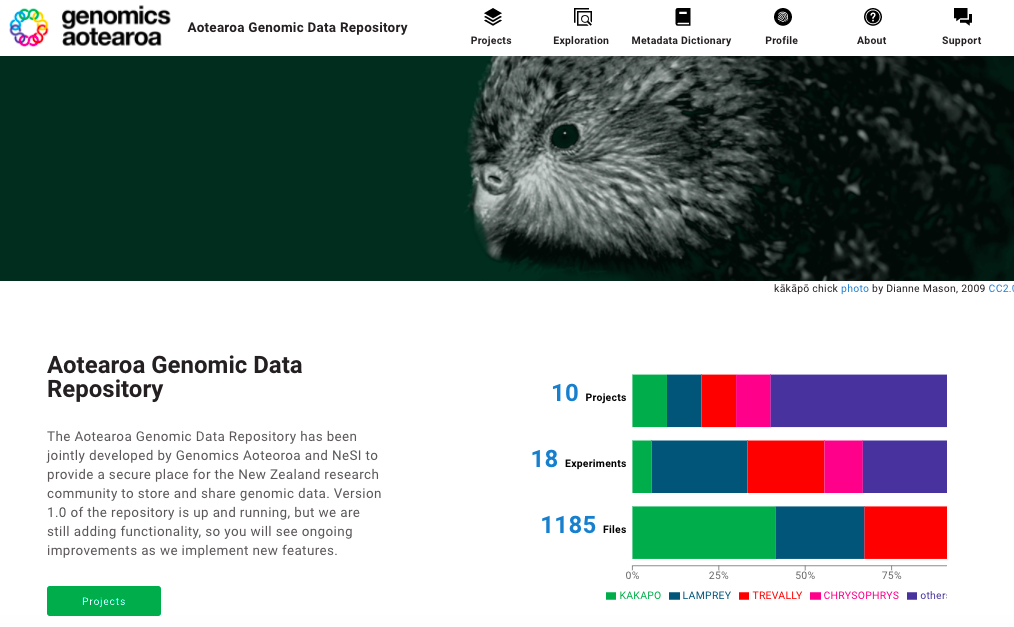 Attribution: 
The homepage of the newly launched Aotearoa Genomic Data Repository.
Currently, the repository hosts nine genome data sets of taonga species, totalling more than 5.5TB. Kākāpō, an endangered parrot, is one of the most prominent datasets, with both raw data and processed genome data hosted for all 200+ birds that are alive. The other species include Kōkako, Chrysophrys auratus (Australian snapper), Mānuka, black rat, Kōura, kea, kaka and trevally.
On 13 August, Mik Black, Associate Professor at the University of Otago and Lead of Genomics Aotearoa's Bioinformatics Capabilty Project, shared an overview of the project as part of Genomics Aotearoa's regular webinar series. You can watch his talk below (or click here to view directly on YouTube).
More information
To view a list of the data sets available, and for instructions on how to request access and make submissions, visit: https://repo.data.nesi.org.nz. 
If you have questions about the repository, contact genomics.aotearoa@otago.ac.nz.
Related case studies