NeSI membership in Research Software Alliance (ReSA) opens door for more collaborations and partnership around research software
This month, NeSI joined the Research Software Alliance (ReSA) as an Organisational Member, expanding our ability to participate in, learn from, and contribute to international efforts advancing the research software ecosystem.
"It's a time of exciting change and recognition of the value of research software," says Nick Jones, NeSI Director. "From NeSI's perspective, we live and breath research software at the core of our purpose, through capability-building via our training activities to investing in software that optimises the use of our advanced computing and data resources."
As a ReSA Organisational Member, NeSI can tap into international collaborations to solve common problems, access decision makers and key influencers, and share best practice.
"There are very few people in any country that are focused on the practices of research software; the career paths of Research Software Engineers, the relevant skills for researchers themselves, and the overall challenges and needs in this area," says Nick. "Luckily, when we come together globally, we pull our experiences and take a strategic view of where we might be heading and how we might need to invest to enable those future opportunities and outcomes."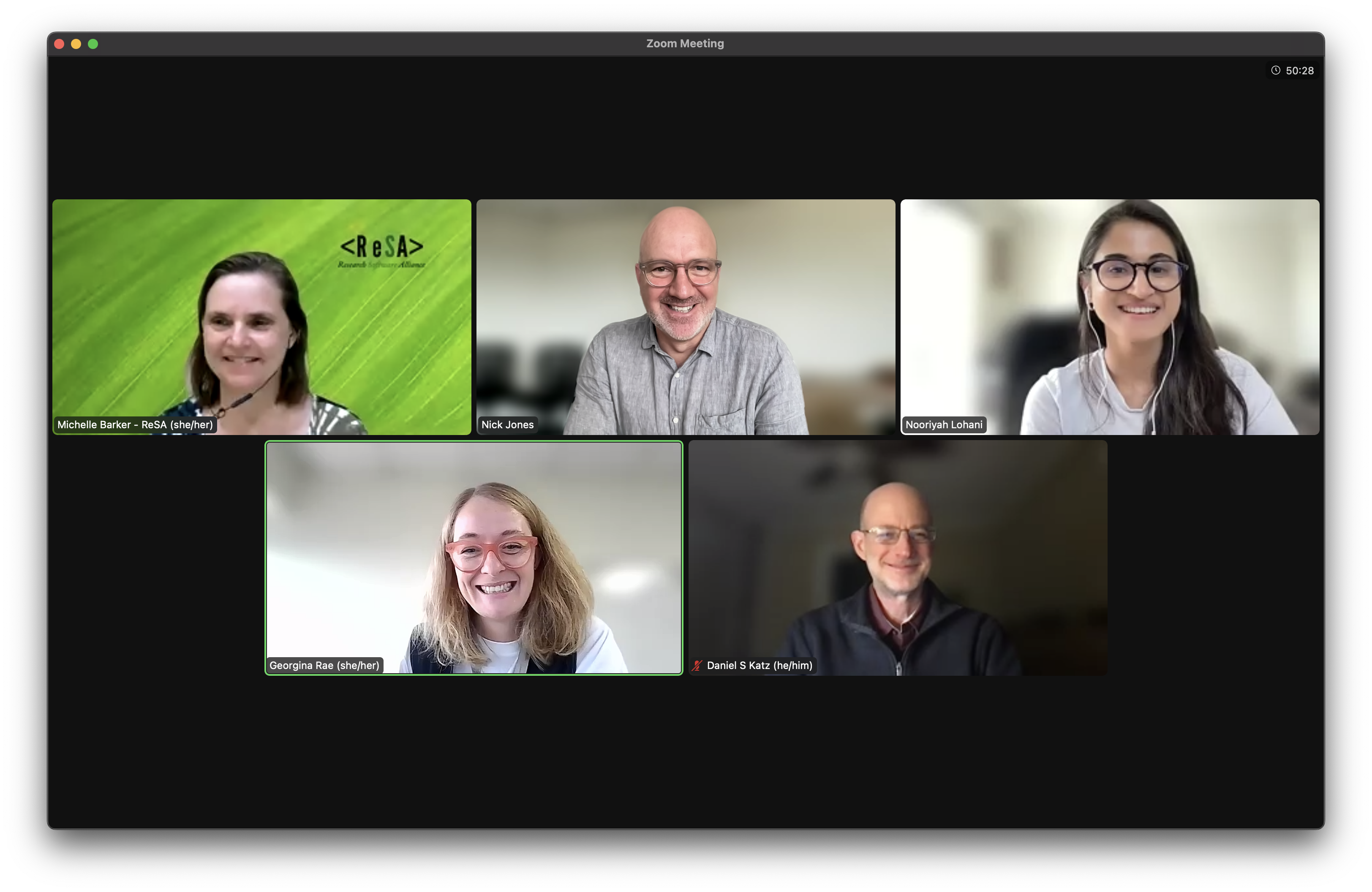 Attribution: 
Celebrating the strengthened NeSI and ReSA partnership over Zoom. Pictured left to right: Michelle Barker (ReSA), Nick Jones (NeSI), Nooriyah Lohani (NeSI), Georgina Rae (NeSI) and Daniel Katz (ReSA).
NeSI's relationship with ReSA has grown over many years, including collaborations such as: 
We'll continue to keep you updated on NeSI activities in the ReSA community and research software space. Please reach out if you'd like to learn more or get involved.
What is ReSA?
The vision of the Research Software Alliance (ReSA) is that research software and those who develop and maintain it are recognised and valued as fundamental and vital to research worldwide.
A wide range of research software organisations and programs exist internationally to address the varied challenges in software productivity, quality, reproducibility, and sustainability. ReSA aims to coordinate across these efforts to leverage investments, to achieve shared goals. The ReSA Strategic Plan provides details and a opportunity to comment. The ReSA engagement plan contains more information on how community engagement occurs. Also available is our 2022 year in review and overview of ReSA.
How to get involved / support ReSA activities