Contributing to local & global kōrero around the value, impacts and future of Research Software
Research software plays a significant part in how we access, process, share, and understand information. At NeSI, we've been looking at what we do to enable research communities to truly value the contributions of research software in underpinning contemporary science. 
Value in practice
We regularly see the value of research software demonstrated across the research projects using our HPC and eResearch services, as well as through the communities we partner with to support the people and capabilities powering research software development:
Our HPC platform enables researchers to bring their own code or they can access our extensive software library, already built and compiled, ready for them to use.
Since launching Jupyter on NeSI in 2021, 

we've seen significant growth in researchers' interactive use of Jupyter notebooks, and our team have

 used Jupyter to support NeSI's training activities and onboard or support users who are not as familiar or comfortable with working in the command line.
Responding to the growing cohort of data science users on NeSI systems, we provide a range of specialised software capabilities to specifically support data-intensive research requiring analytics or machine learning. 
NeSI also sees great value in supporting and building the community of those who are driving the development of research software. Now in its third year, NeSI's New Zealand Research Software Engineering (NZ RSE) Conference offers an annual community-building and knowledge-sharing forum for researchers, software engineers, computational scientists and anyone who writes code, applies software solutions to research problems, and/or develops applications that enable research. In 2022, under a theme of Sustainability: Communities, Digital Practices and Tools, our keynotes both called out the importance of FAIR Principles for Research Software (FAIR4RS Principles).
NeSI Research Communities Advisor Nooriyah Lohani is a Co-Chair of the Steering Committee of the Research Software Engineers (RSE) Association of Australia and New Zealand (RSE-AUNZ), which is actively working to build awareness of the diversity of RSE roles, connect volunteers in the RSE domain, and to help build practical solutions for the RSE community.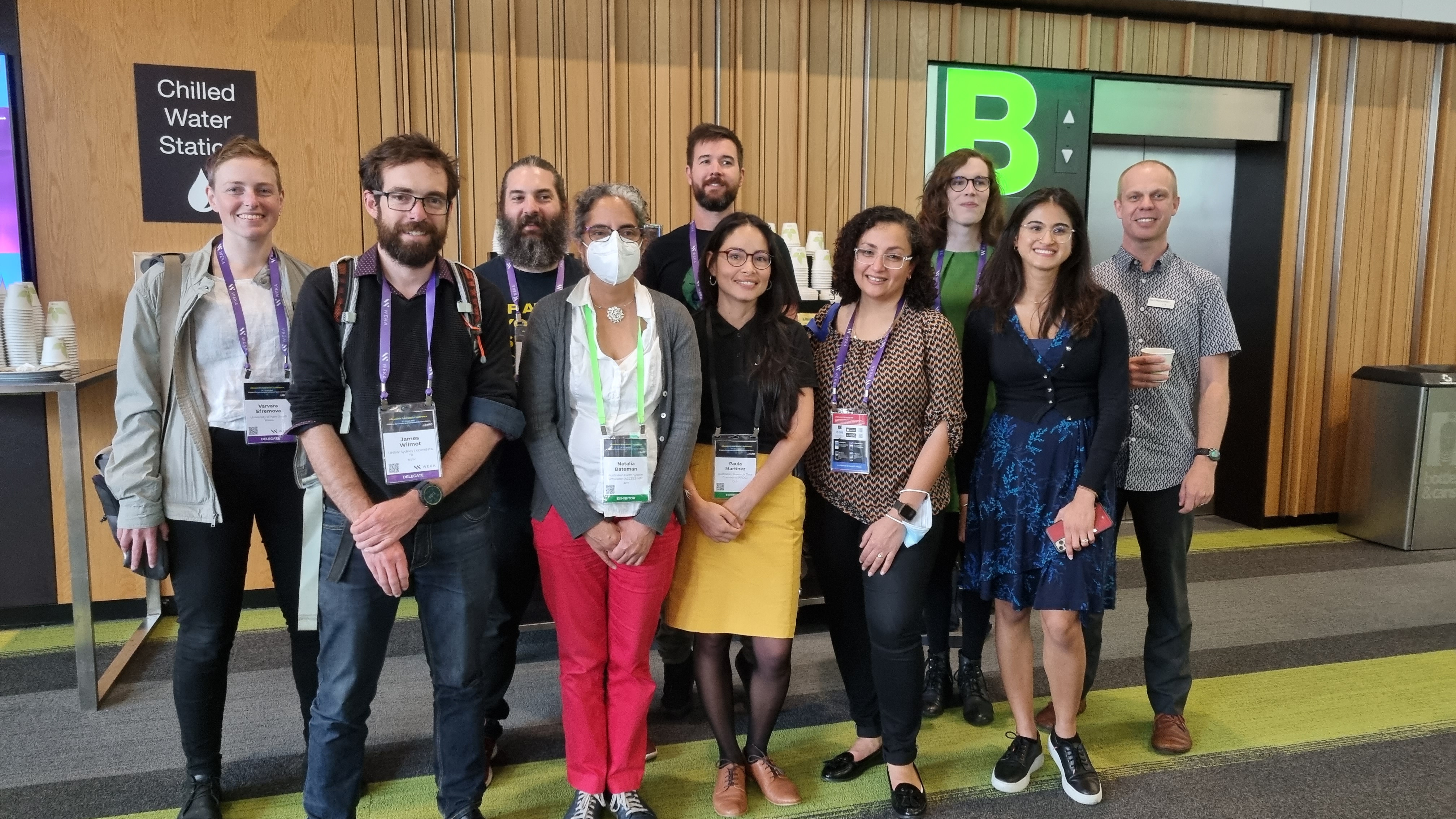 Attribution: 
The 2022 eResearch Australasia conference marked the first time in nearly four years that members of the RSE-AUNZ community were able to meet in person. Nooriyah Lohani from NeSI is pictured in the front row, on the far right side.
Growing awareness
With the Research Data Alliance marking its 10th Anniversary Plenary Meeting in 2023, themed: "A Decade in Data", we're seeing a growing recognition and call for research software needing its own share of attention and celebration.
Tom Honeyman and Paula Martinez from the Australian Research Data Commons (ARDC) delved into this topic at the 2022 eResearch Australasia Conference, sharing ARDC's efforts in this space, which are feeding into local and international initiatives.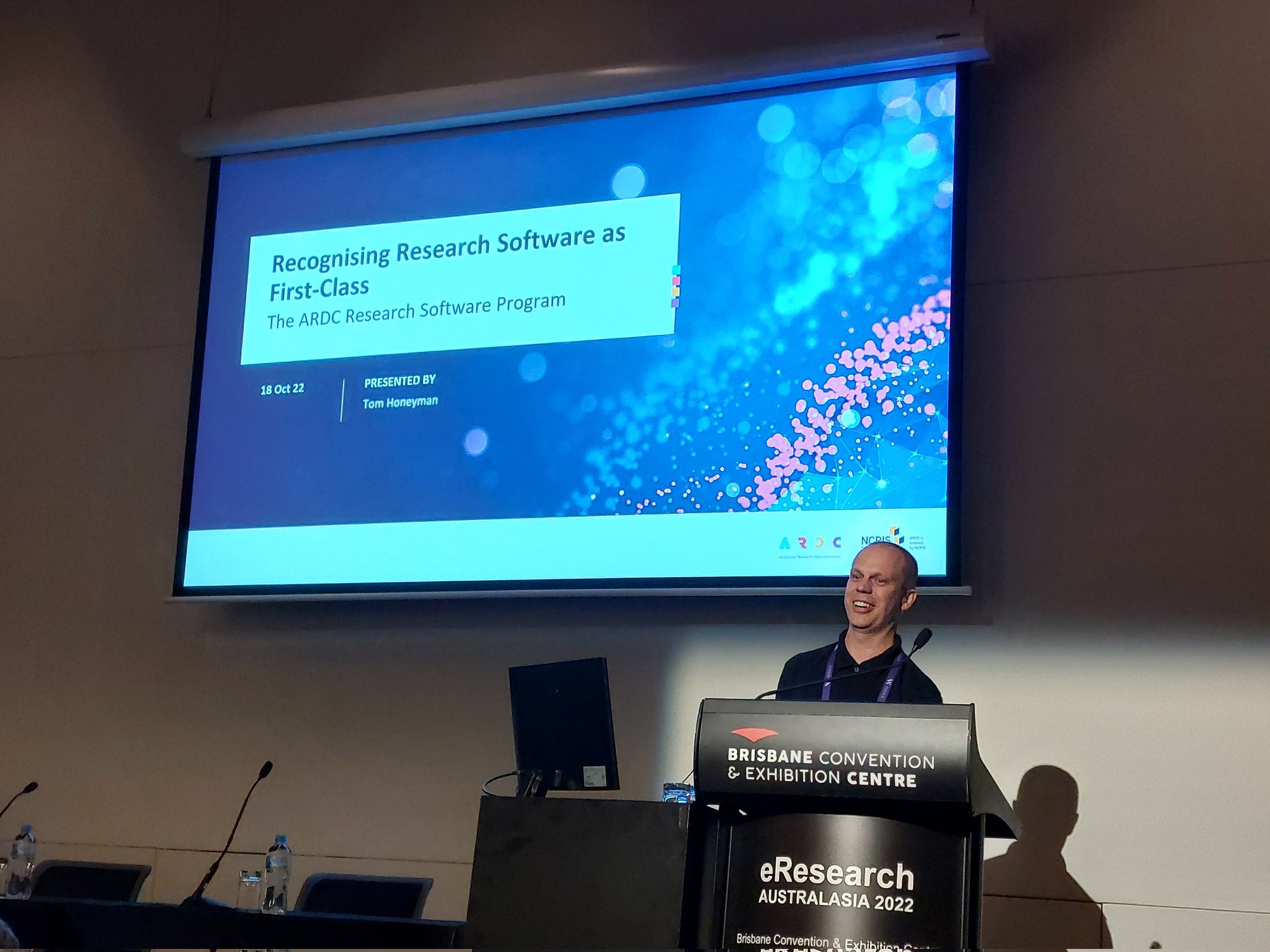 Attribution: 
Tom Honeyman from ARDC speaking at the 2022 eResearch Australasia conference.
Global perspective
Alongside the above examples of supporting use, buidling community, and facilitating kōrero at local and regional levels, NeSI is also leveraging opportunities to contribute and learn from international discussions.
From 8-9 November, NeSI Director Nick Jones is attending a two-day international workshop hosted by the Research Software Alliance (ReSA) and the Netherlands eScience Center to explore the future of research software, and how it can be better supported at a strategic and financial level. Hosting participants from across the globe and featuring a slate of thought leaders in this space as keynotes, it's a valuable opportunity to engage and bring back learnings for the Aotearoa New Zealand context.
Looking ahead
We're already planning activities for how we'll continue to support and remain active in the research software and RSE spaces next year. Watch this space for updates and please reach out if you'd like to learn more or get involved.