Growth continues across all NeSI services, including new monthly usage record set on HPC platform
The first half of 2021 saw lifts in usage and reach for all NeSI services, demonstrating the continued growth and potential for growth of computational science across New Zealand's research ecosystem.
Now that we have some mid-year data logged, we thought we'd share a few of the interesting and exciting milestones achieved in 2021 so far.
---
Supporting research informing Aotearoa's Covid-19 response
Deemed an essential service, NeSI facilities and support services have remained operational during all Alert Levels, and we've been able to support specialised access to research projects involved in New Zealand's Covid-19 response. If you're involved in this work, please get in touch and we will do our best to assist in any way possible.
So far in 2021, we've had three research projects using NeSI's HPC platform to power models and simulations, some of which are directly informing government decision-making around next steps in the national response to the pandemic.
 
NeSI HPC Platform core hour usage by Covid-19 projects in 2021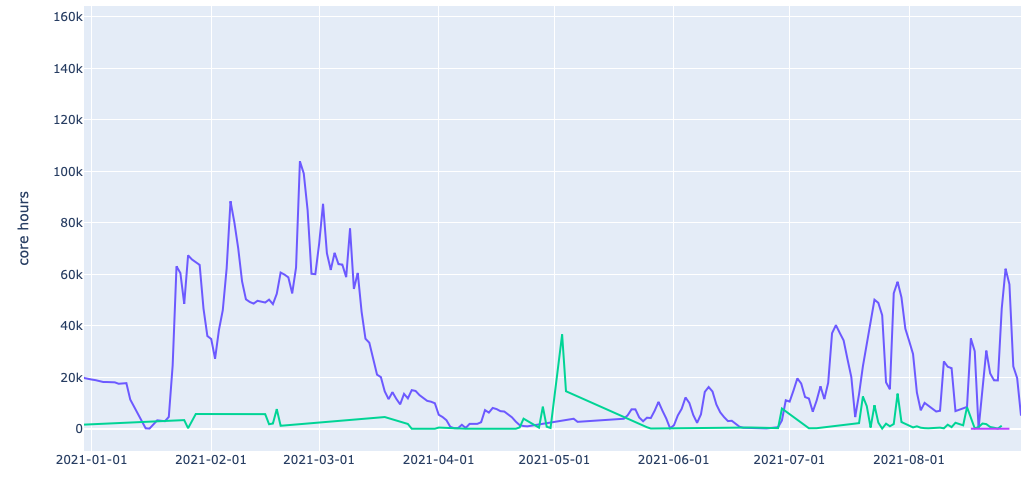 At the University of Auckland, David Wu and Oliver Maclaren -- researchers in the Contagion Network Team (CNT) of Te Pūnaha Matatini's Covid modelling response -- have been developing software that models the spread of COVID-19 under a range of different scenarios and interventions.
Their model is one of the key modelling tools the New Zealand government has been using to make decisions around Alert Levels and in responding to outbreaks. Click here to read more about that project.
Another record set on HPC platform 
In July 2021, users logged more than 15 million CPU hours on the Mahuika and Māui systems, setting a record for peak usage in one month. This tops the previous record of 13 million CPU core hours set in August 2020.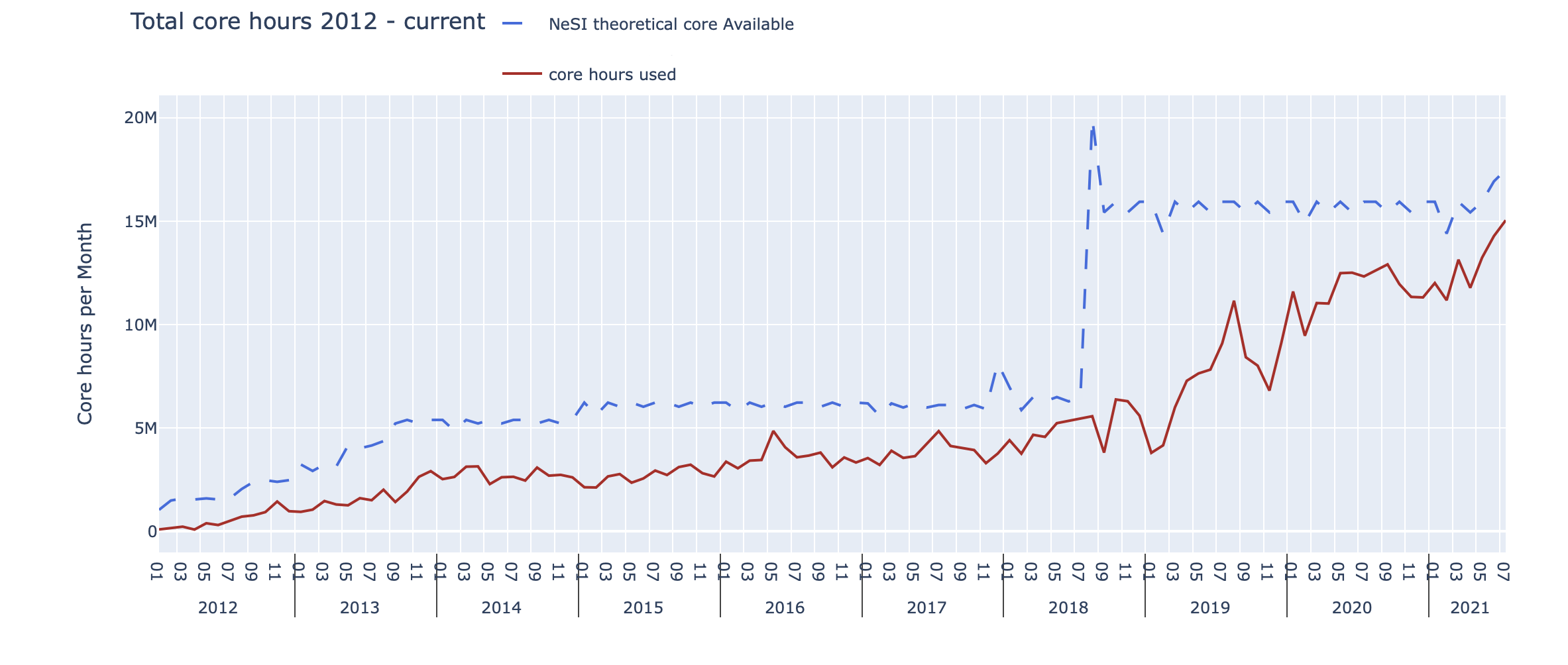 Setting a peak usage record gives us a few things to celebrate: 
it showcases the high performance capabilities of the HPC Platform
it reflects the efforts of NeSI's Systems Engineers and Application Support Specialists who keep the systems running efficiently and smoothly under significant levels of demand
it indicates a strong trend of growth and demand for computational capabilities

 
Overall, it's an exciting lift in productivity and we look forward to deploying additional capacity and capabilities later this year to keep up with the demand! 
Supporting interactive use through Jupyter Notebooks
Jupyter is a leading example of notebook science which lowers the barriers to accessing the power of NeSI for a wider range of users. By using Jupyter on NeSI, researchers have access to a rich array of simple-to-use web browser based scripting tools for data analysis and computational research.
The stacked bar chart below shows the total number of users, split by organisations, accessing the NeSI HPC Platform using Jupyter Notebooks. Across 18 different organisations, the number individual users has been growing at a rapid rate, reaching 106 by June 2021.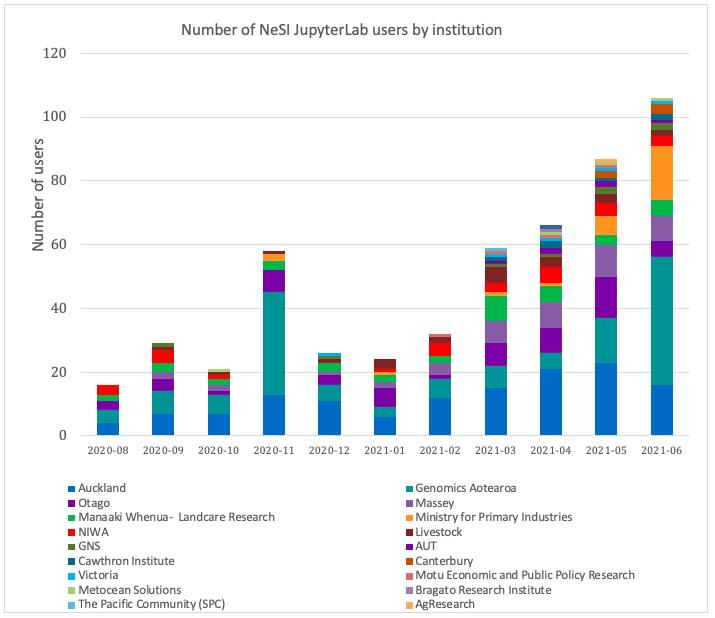 Increased numbers of projects and users
As more research communities bring HPC into their work routines and workflows, we're seeing them integrate NeSI resources into the way they work. Communities are scaling their codes, running bigger projects, and onboarding more researchers. From April - June 2021, NeSI's total number of users with active projects has been growing at its fastest rate, up 27% from the first quarter of the year. 
The graph below shows the number of users on the NeSI platforms from 2012. The blue line represents the total number of users assigned to an active project on NeSI, the orange line represents users who ran at least one job on the NeSI HPC platform in the quarter, and the green line represents the number of users who only accessed NeSI filesystems in the quarter. The yellow line represents members of a project group, but who are not active on the project.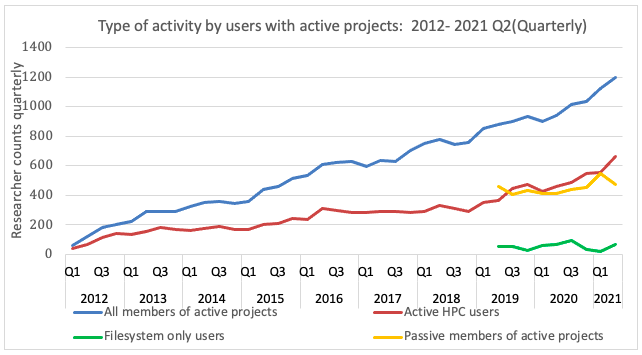 Other service highlights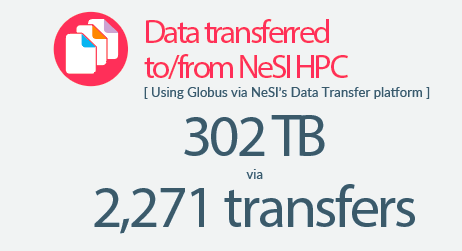 Visit our Data Services page to learn more about using the National Data Transfer Platform, powered by Globus and REANNZ, to transfer and share your research data with collaborators across New Zealand and around the world.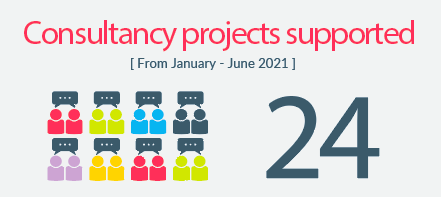 Visit our Case Studies section to read examples of the projects we've supported with code optimisation, workflow improvements, and integration of data science or machine learning approaches. We always welcome new requests for Consultancy support. Click here to learn more about NeSI's Consultancy service.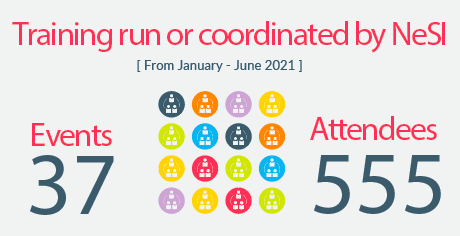 The team behind NeSI's Training initiatives have been focused on scaling training activities to reach more researchers, focusing training efforts to meet community needs, and maintaining a sustainable and steady delivery of training workshops and webinars. View our Events sectionvisit our Training page to learn more about these efforts.
---
As always, we welcome your thoughts on how NeSI is doing and welcome any feedback you may have for ways we can improve. Email us at support@nesi.org.nz anytime.