Plant & Food Research joins National Data Transfer Platform as newest endpoint
We're pleased to announce that Plant & Food Research has joined the National Data Transfer Platform. Their new local endpoint, activated in June, enables Plant & Food researchers to transfer and share their data in New Zealand and around the world via a high-speed dedicated science network, powered by Globus.
The endpoint was brought online through a collaborative effort across the teams of NeSI, REANNZ, and Plant & Food Research.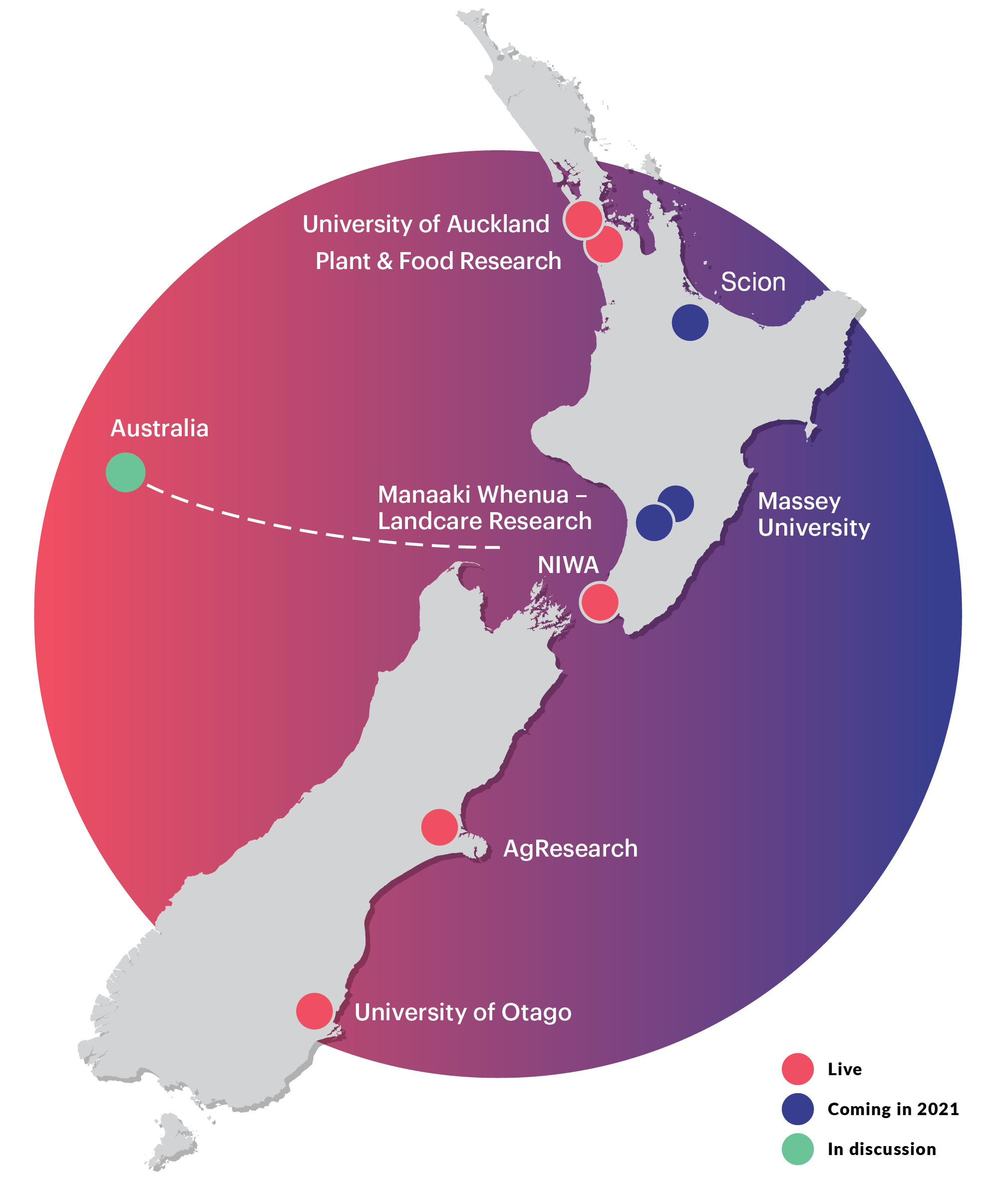 "It is critical that we provide our researchers with the right tools to do their job efficiently. Plant & Food Research engages in collaborations with numerous CRIs, universities, and other research institutes around the globe. Enabling fast and painless data transfer mechanisms between organisations will strengthen those collaborations and accelerate science delivery," says Eric G. Burgueño, High-Performance Computing Services Manager at Plant & Food Research.
"We are very happy with the help we have received from NeSI and REANNZ with getting our first Globus Endpoint up and running. A big thank you to everyone that contributed. A special shout-out to Bjoern Pauly (PFR), Blair Bethwaite (NeSI), Daniel Twohill (REANNZ), José Higino (NeSI), Vladislav Gromov (REANNZ), and Yeshaswini Ramesh (REANNZ), for their technical help. It was truly a collaborative effort (so apologies if I missed anyone!)."
Researchers have already seen benefits from using the endpoint. One example use case is Plant & Food Research's work with Rapid Genomics, a US-based genotyping service provider. 
"As part of the development of genotyping platforms for our Kiwifruit breeding platform, we use Globus to upload reference information to them and they deliver data back to us in the same manner," says Susan Thomson, Bioinformatician at PFR. "Being able to access and download genotype data from our providers, straight to our HPC data storage via secure Globus transfers saves us time and worry, which is especially important since we are in the throes of genotyping over 2,500 samples at the moment!"
This growing community that supports New Zealand's National Data transfer platform, facilitated by NeSI through different channels like Slack and collaborative working sessions, supported the implementation of the DTN. Both the teams at NeSI and REANNZ worked back and forth via the national data transfer platform Slack group and were able to quickly resolve any issues as they occurred.
"We were first contacted by Eric Burgueño the HPC Services Manager at Plant & Food Research, as he wanted to commission a new Globus DTN Server and needed dedicated high speed connectivity for this," says Dan Twohill, REANNZ Senior Network Engineer. "REANNZ advised this could be connected directly to the Mount Albert (MTA) PoP Router onsite at 10Gbps allowing for dedicated Bandwidth. REANNZ also worked with the team to craft a security access list to prevent any unauthorised traffic from the Internet from reaching this DTN node. Further assistance from both REANNZ and NeSI was provided during the initial setup and commissioning and a number of changes were made to ensure that the server and network side were configured and operating correctly. We were all able to quickly work together to address a couple of issues that were encountered along the way and worked collaboratively to resolve these."
This brings the National Data Transfer Platform's number of institutional endpoints to six with Plant and Food Research joining the University of Auckland, NIWA, AgResearch, the University of Otago, and Manaaki Whenua - Landcare Research. A further two endpoints are in later stages of implementation, with Manaaki Whenua - Landcare Research in Hamilton and Scion in Rotorua planned to come online by the end of the year. These endpoints enable high-speed data transfer to NeSI's Māui and Mahuika HPC systems hosted at NIWA, and link the institutions to Globus' worldwide data transfer network.
"We're pleased to welcome Plant & Food Research onto the Data Transfer Platform and to be working with Scion and Manaaki Whenua - Landcare Research to bring their endpoints online this year as well," says Brian Flaherty, Data Services Product Manager at NeSI. "By expanding the number of connected research institutions within New Zealand, this allows for wider support of workflows nationally, as well as between international collaborators, research instruments, and compute facilities."
To learn more about other recent projets NeSI has in progress with Globus and developments being made to the Data Transfer Platform's capabilities, click here.