Growing the reach and impacts of New Zealand's national Data Transfer Platform
As researchers increasingly generate and transfer data at expanding rates, NeSI, REANNZ, Globus and other partners have been responding to those needs by improving and extending the capabilities of New Zealand's National Data Transfer Platform. Below are a few recent updates on that work.
New Data Transfer Platform endpoints coming online in 2021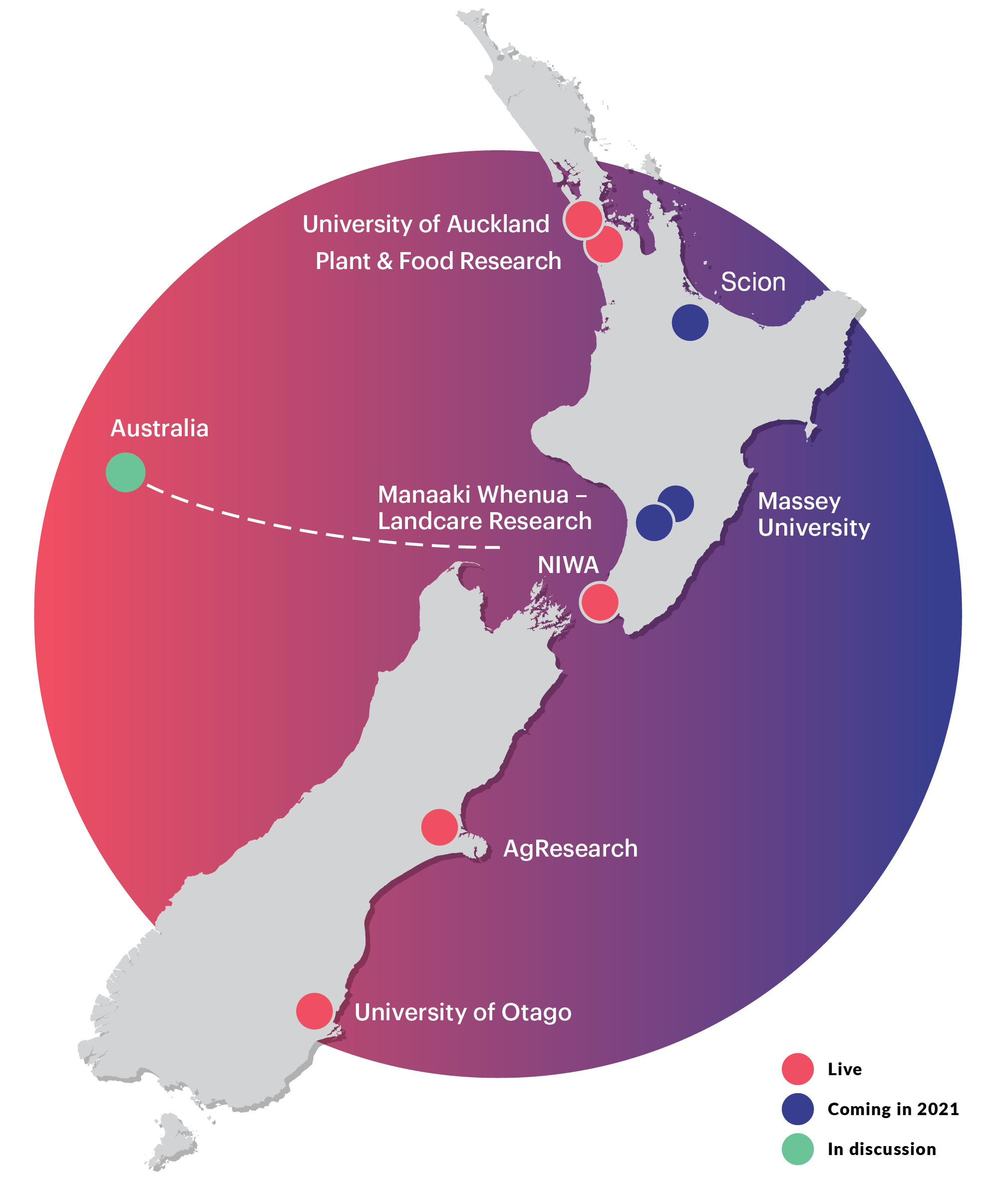 We're pleased to announce that Plant & Food Research has joined the National Data Transfer Platform, activating a local endpoint for its researchers in June. The endpoint was brought online through a collaborative effort across the teams of NeSI, REANNZ, and Plant & Food Research. Read more about those efforts here.
This brings the National Data Transfer Platform's number of institutional endpoints to six, with Plant and Food Research joining the University of Auckland, NIWA, AgResearch, the University of Otago, and Manaaki Whenua - Landcare Research. A further two endpoints are in later stages of implementation, with Manaaki Whenua - Landcare Research in Hamilton and Scion in Rotorua planned to come online by the end of the year. These endpoints enable high-speed data transfer to NeSI's Māui and Mahuika HPC systems hosted at NIWA, and link institutions to Globus' worldwide data transfer network. 
Exploring collaborations with Australia
Across the Tasman, NeSI has been collaborating with AARNet over the last year to investigate endpoints at Australian research facilities as part of a phased "whole of Australia research sector" Globus subscription. Following a successful proof-of-concept phase, AARNet announced on 09 July it will be launching Globus as a national research data management service in Australia. AARNet is the latest national cyberinfrastructure provider to subscribe to Globus, joining NeSI in New Zealand, Compute Canada in Canada, and National Integrated Cyberinfrastructure System (NICIS) in South Africa. NeSI will continue to work closely with AARNet as they roll out more Australian endpoints, with  an eye to improving and encouraging more trans-Tasman data transfers and research collaborations. 
State of the craft in Research Data Management: A view from New Zealand
In order to better understand the current state of research data management Globus reached out to several research computing leaders at institutions around the world to gain insights into their approach and their recommendations for others. One of those leaders was Nick Jones, NeSI's Director. Globus recently published that conversation as the final instalment of its five-part series. Click here to read it. 
How Globus enables national cyberinfrastructures
For a broader view of the evolution of New Zealand's Data Transfer Platform and the partnership NeSI has forged with Globus over the years, have a read of this overview piece we recently wrote for Globus' data management blog. It was part of global look by Globus at various national cyberinfrastructures around the world that are democratising access to advanced data management capabilities for researchers at diverse institutions and facilities Read Globus' global recap here.
New functionality with Globus project folders
Researchers using Globus to transfer data to and from the Māui and Mahuika clusters on NeSI's HPC Platform can now enable read-only access to their project directory /nesi/project/<project_code>. This is useful because it reduces the need to double-handle data, with researchers no longer required to move data to the nobackup file system before transfer. For more information on Globus paths and permissions for transfers to the NeSI HPC Platform, read this Support page.
Globus for IT professionals
Earlier this year, NeSI hosted Ian Foster and Kyle Chard, co-leaders of the Globus Labs research group, for a webinar focused on using Globus in New Zealand. The webinar was targeted at system administrators who have deployed (or are planning to deploy) Globus at their institution, developers building applications for research, and anyone who is interested in learning more about using Globus for research data management. The session provided a brief description of Globus, described progress on Globus Connect Server v5, and presented new and upcoming Globus platform services including Globus Automate, Globus Search, and funcX. 
More information
For more information about using Globus or establishing a Globus endpoint at your research institution, visit our Data Services page.