NeSI 2019 Annual Review: Looking back on another active and successful year
We are pleased to share with you NeSI's Annual Review for 2019. We've opted to publish an online version only this year. Click here to dive in and start reading.
It's an interesting time to pause and look back on the previous year, particularly as 2020 has already given us much to reflect upon and learn from in just the last few months. During New Zealand's COVID-19 Alert Level measures, NeSI was classified an essential service in recognition of the biomedical and population health research projects operating on Māui and Mahuika as a part of the national COVID-19 response.
Our collaborators – NIWA, the University of Auckland, University of Otago, and Manaaki Whenua - Landcare Research – play an essential role in the NeSI national platform by investing in the shared infrastructure, employing NeSI team members at their institutions, and enabling NeSI to connect with and respond to the evolving needs of research communities. We also achieve this with a strong partnership with the Ministry of Business, Innovation and Employment (MBIE) Strategic Science Investment Fund (SSIF) and team, always in the national interest.
In 2019, we looked to build on the platform's core infrastructure foundation, to develop services that deliver full benefits of the investment to the science sector.
Key highlights from 2019 included:
The Mahuika and Māui platforms saw their first full year of production in 2019, with regular periods of high levels of utilisation and sustained performance under load.
 
NeSI continued to develop the HPC platform's capabilities, including support of a wider range of scientific applications and environments such as Singularity, JupyterLab, and Tensorflow. Also expanding the infrastructure access and availability with GPUs, huge memory nodes, and tiered storage.
 
We received consistently high user satisfaction ratings, with 92.5% of projects surveyed indicating their projects experienced significant benefits from using NeSI.
 
New people were recruited to the NeSI Team with specialised expertise, adaptable skills, and established networks to deepen NeSI's knowledge base and strengthen its connection into research communities.
 
Consultancy services were delivered to 17 projects at nine different organisations, lifting researchers' productivity, efficiency, and skills in using research computing tools and resources.
 
Contributions were made to local and international initiatives that connected, supported and built awareness around the value of Research Software Engineer (RSE). In September 2019, NeSI Research Communities Advisor Nooriyah Lohani was named as one of six inaugural members of a new RSE steering committee for New Zealand and Australia, and she is now co-Chair of that Committee.
 
We doubled the number of events NeSI hosted or collaborated on that promoted skill-building and community-building nation-wide. This included 13 events specifically in bioinformatics, and 31 events related to teaching foundational computational and data management skills to researchers.
 
New Zealand researchers were empowered to develop better diagnosis methods for autism spectrum disorder, enhanced models for predicting floods and storm damage, novel approaches to global food production technology, new insights into endemic species, and tackle other large-scale, highly complicated, or regionally unique research.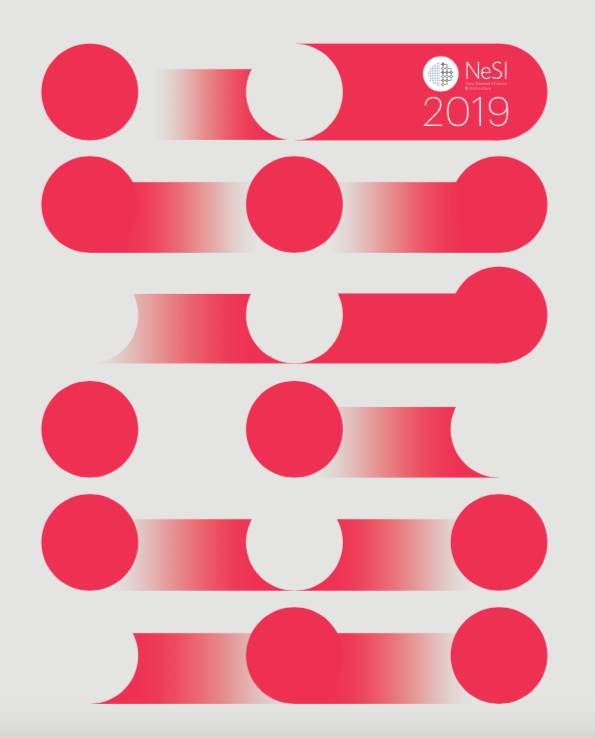 As always, we welcome your thoughts on this Annual Review and any feedback you may have for ways we can improve. Email us at support@nesi.org.nz anytime.
There are a few ways to read our online Annual Review this year:
Note:
The 2019 NeSI Annual Review cover (pictured to the right) celebrates the connections between research communities, data, technology, and innovation. The cover design uses a contemporary expression of the Koru to symbolise this relationship and the interconnectivity of its many moving parts. The graphic shapes of the Koru flow into one another representing perpetual movement and the constant evolution of digital research capabilities. Using the Koru as inspiration establishes a firm link between NeSI and Aotearoa, New Zealand.