Enabling learning during lockdown: What it took to move genomics training online overnight
Over the last seven months, NeSI's Dini Senanayake and Genomics Aotearoa's Ngoni Faya have been paving the way for genomics researchers in NZ looking to upskill. In 2019 they ran nine Genomics workshops in six cities/towns and had high hopes for delivering even more in 2020. 
Known for their generous instructors and inclusive, in-person environment, these workshops are in high demand across New Zealand. So when in-person workshops became a health risk during the COVID-19 pandemic, Dini and Ngoni had to re-think the structure and delivery of their workshops. Would it be possible to re-create the same inclusive, hands-on environment online?  
To date, they have delivered two online versions of their Genomics Data Carpentry workshop, and so we asked them to share what it was like to dive, overnight, into the world of online training.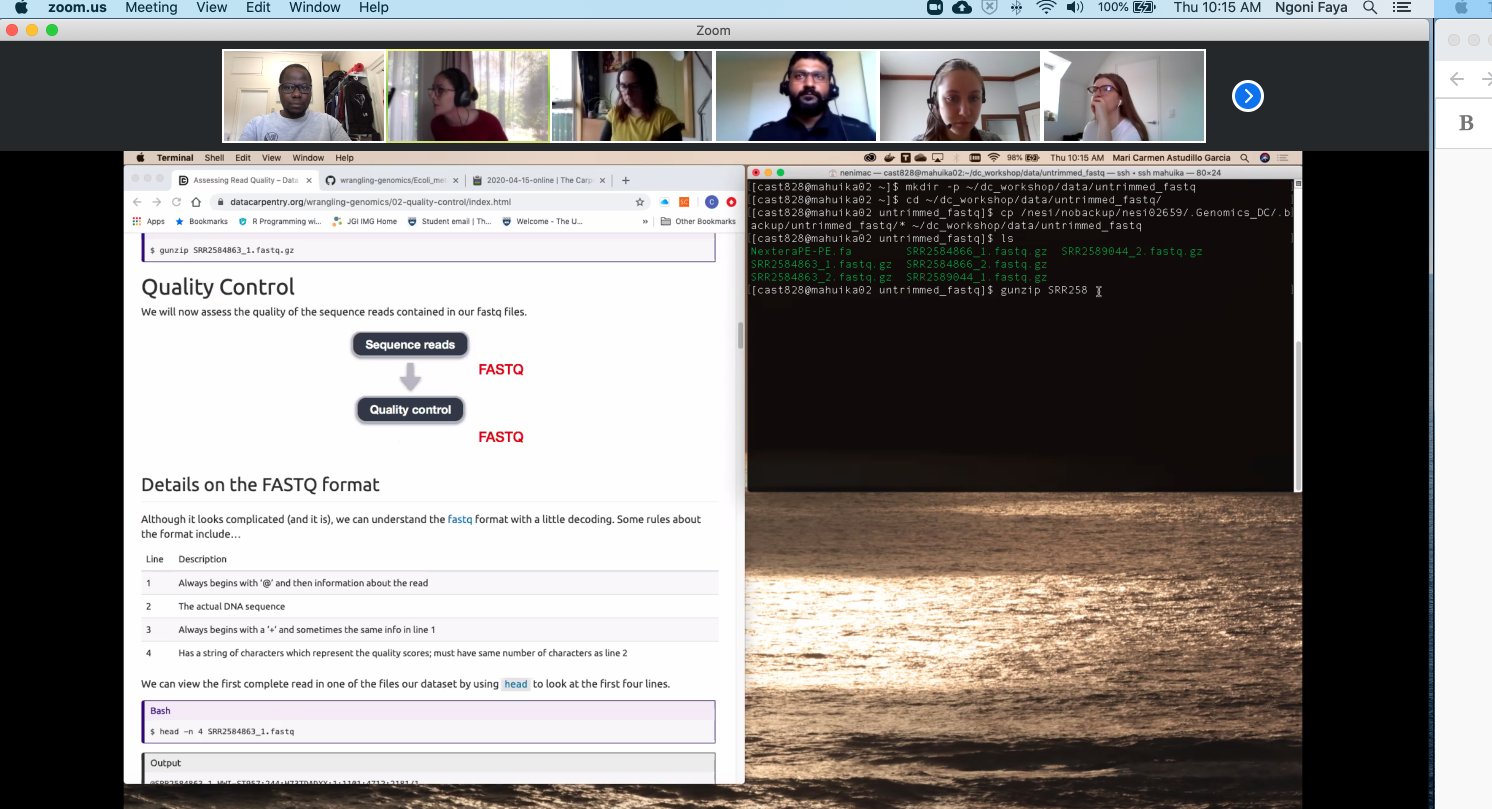 Attribution: 
Pictured above, Genomics Aotearoa's Ngoni Faya (far left) and NeSI's Dini Senanayake (third from right), delivering their Genomics Data Carpentry workshop in a new virtual format.
Catching up with Dini and Ngoni:
What were you most concerned about moving the training online to zoom?
Dini: 
​I was most concerned with not being able to easily see the screens of the attendees which makes answering questions challenging. I had to view (via screen share) the participants screens one at a time which took a bit more time, though ultimately this wasn't a problem.
Ngoni:
I was most concerned with the internet connection. Will attendees get dropped off or will I lose connection in the middle of teaching? Fortunately, I did not have any connection issues myself but a few attendees did. When this happened we just had to spend a few minutes getting the attendee up to speed. It is normal to have some technical issues but I did check my own internet connection beforehand to ensure it was stable.
What were the main changes you made to the workshop structure when you decided to go online?
Ngoni:
It was important that we did not have people spending an entire day in front of a computer screen so the workshop timing was changed from 9-4:30 to 10-3:30.  We cut out a few lessons, such as project organisation, to make the timing work… we removed lessons we thought attendees could learn on their own if they had the time.
It was disappointing to remove some of the content since that meant we were unable to go deeper into the 'why' or the purpose of the lessons. One silver lining, though, was the shorter teaching day meant instructors had the energy to stick around after the end of the workshop (from 3:30-4:30) to answer specific questions from attendees. We don't normally do that for the in-person workshops.
Can you describe a few highlights from the two online workshops? 
Dini:
The diversity. Typically at in-person workshops you will have only a few institutions represented, but in this online setting we had 5+ institutions in each of the two workshops we have run. This is great for fostering inter-institutional connections.
Ngoni:
For me a highlight was the simplification of the admin tasks (no catering, traveling, etc…). I could pretty much just wake up and teach! I also found that attendees were, in general, less distracted by side conversations than they would be in an in-person workshop, which makes it much easier to focus as an instructor.
Dini (in response to Ngoni's answer above):
Yes, I agree the attendees did seem to be able to focus easier.  In the data wrangling portion of the webinar I noticed all attendees were diligently submitting code as the instructor was teaching.
You ran a second online workshop just two weeks after the first. How did you get over the imperfections and commit to delivering the workshop again?
Ngoni:
I was mostly concerned with keeping up with the demand. A lot of people were not able to attend the initial online genomics data carpentry workshop so we were determined to deliver a second workshop quickly. And there were not too many imperfections to worry about, so that wasn't a big concern.
Dini:
I agree, nothing went terribly wrong during the workshop. I do think it helped to have Ngoni deliver the very first lesson of the first workshop. He has a great teaching pace and set up the other instructors to follow through similarly.  
What is the biggest difference between running a carpentries workshop online vs. in person?
Ngoni:
The potential for technical interruptions is higher with an online workshop.  I strongly encourage that anyone wanting to run an online workshop checks their internet connection and takes the time to check-up on workshop registrants beforehand. Attendees for our workshop have to set up an account with NeSI before they can attend and we find that this process helps attendees feel motivated to attend the entire workshop and actively participate.
What advice would you give to someone wanting to run an online workshop?
Dini:
Do the homework. Be very familiar with the material you are teaching. Making mistakes and going back and forth with troubleshooting can put learners off and get confusing. I reviewed the lessons I was assigned to teach before each workshop and found it to be a very good use of time. The lesson you teach is like a story. Have your story ready before you teach.  
It is also helpful to have a separate list of all the commands you plan on using in the lesson, this will make copy-pasting of commands quicker so it is easier to move through the material without needing to scroll back and forth through the main lesson.
Ngoni:
Yes, even 10 seconds of silence gets awkward in an online format so any preparation is helpful. 
* * * * * * * * * * 
Looking ahead, Dini and Ngoni are planning to host another edition of their virtual Genomics Data Carpentry workshop sometime in late May or early June. Details will be advertised once dates are confirmed. 
If you are interested in other genomics-focused training, please feel free to contact Ngoni at Genomics Aotearoa to discuss: ngoni.faya@otago.ac.nz.
NeSI also welcomes any requests for computational research training in any discipline. Our training team regularly organises online workshops and webinars, virtual hacky hours, and other types of training sessions. Feel free to reach out to training@nesi.org.nz for more information.
---
Resources for running online meetings/ workshops:
Want to know more about teaching workshops remotely? Check out these resources:
Virtual networking opportunities:
Need some camaraderie and connection in your day? Check out these groups:
NeSI's next Carpentries Community call is happening on May 26. Connect with fellow instructors, learners, and others passionate about teaching computational research skills. Click here for details. 
University of Auckland staff/ students - you can pop in to weekly hacky hours run by the Center for eResearch from 3-4 pm every Thursday. A great chance to chat with others about work (or not work ;) ). Click here for details. 
The NZ Data Science Slack group holds weekly morning teas. Sign up to the slack workspace for the details.