Exploring needs and opportunities for machine learning and AI in research
On 25 Sept 2018, NeSI and Cray brought together innovators in Artificial Intelligence (AI) to explore the impacts and opportunities for machine learning in New Zealand's research ecosystem. Hosted at the University of Auckland, the panel of speakers included Cray AI experts as well as local New Zealand researchers who discussed the relationships between AI and high performance computing (HPC), shared highlights from use cases across multiple domains, and talked about future opportunities for AI adoption in NZ research programs. 
More than 60 people attended from the Univerity of Auckland, Auckland University of Technology, Manaaki Whenua - Landcare Research, NIWA, the University of Canterbury, and the University of Otago. A recording of the livestream can be viewed here.
Having recently launched two new Cray systems, NeSI's team also used the opportunity to meet with researchers and workshop their current needs and challenges in machine learning.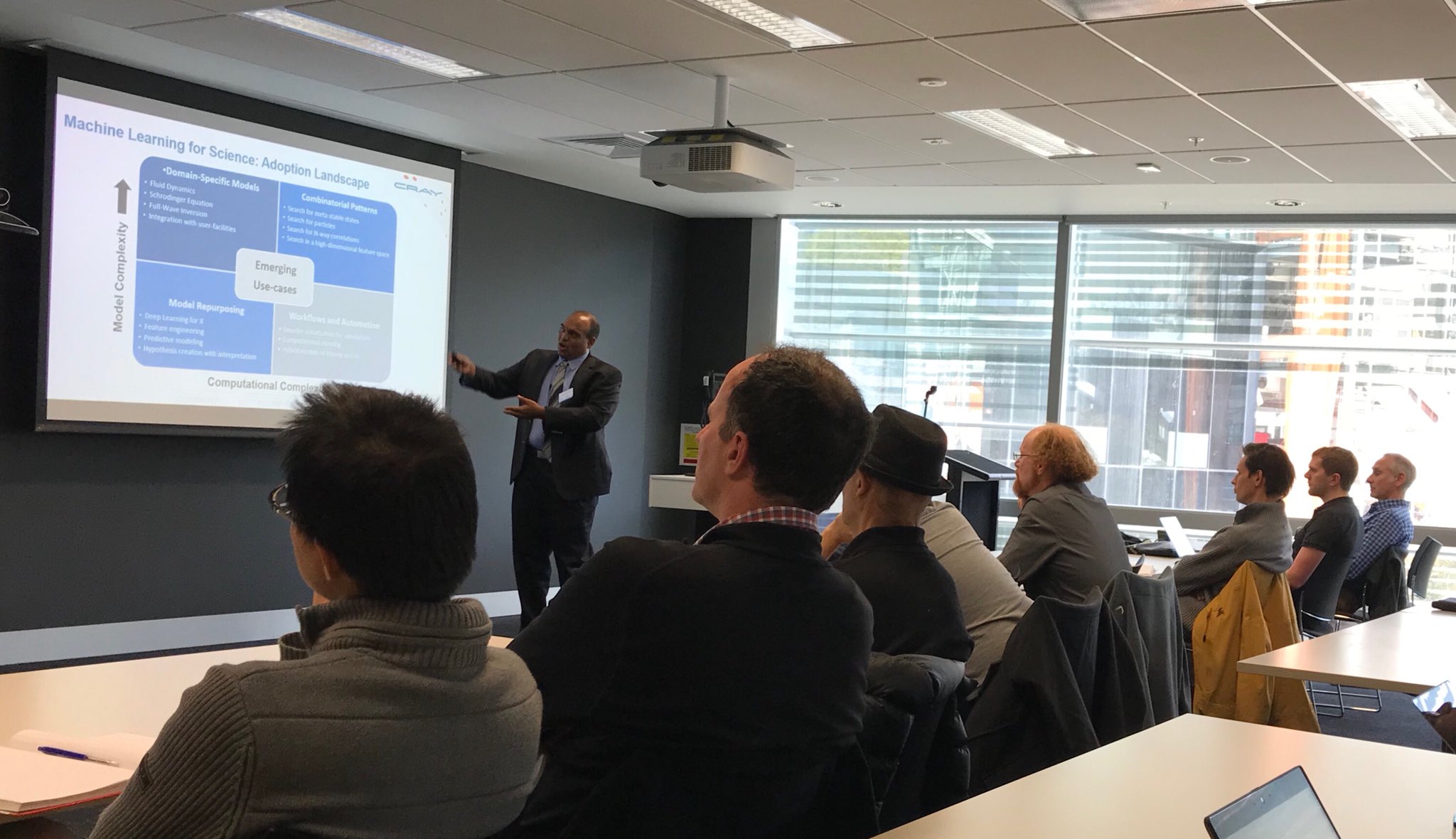 What can HPC bring to AI and Science?
Dr. Rangan Sukumar, a Senior Analytics Architect in Cray's Office of the CTO, spoke of the implications and applications of HPC in AI, and conversely, AI in HPC. Some of the key benefits he mentioned included: 
graph analytics - handling 1000x bigger datasets with a 100x better speed-up with queries
matrix methods - getting 2 - 26x over Big Data Frameworks like Hadoop, Spark
deep learning - achieving 95%+ scalability efficiency that can reduce training time from days to hours
He also noted that use cases in science range across a spectrum of both model complexity and computational complexity: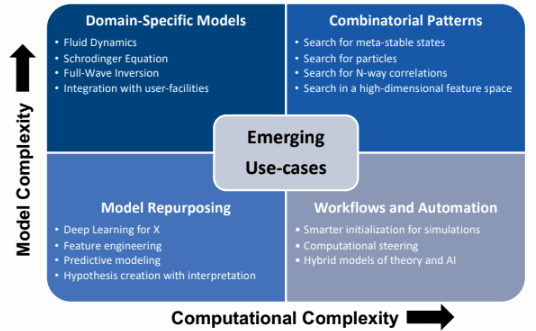 Cray then presented four example use cases of research projects, where machine learning was integrated to uncover insights faster:
weather forecasting - predicting precipitation locations over a short timeframe
climate patterns - finding extreme weather in climate simulations
knowledge discovery - hypothesis generation from literature
cancer targets - finding combinational therapies for cancer
Within each of these examples, achieving AI maturity was a journey, said Dr. Sukumar. The journey began with the formulation of a problem and culminated in a model that was interpretable and scaleable. Ultimately, HPC platforms can support that journey through:
future-proofed infrastructure
reduced cost-of-curiousity
innovating for various 'shapes of scientific data'
creating 'models of tomorrow' today
AI Opportunities in New Zealand
Following Cray's presentations, three New Zealand researchers also shared some projects in progress that either currently incorporate machine learning or have the potential for it in the future:
Dr. Jane Allison shared an early-stage perspective on how machine learning could be used in biomolecular simulations to better understand molecules' structural information, processes and mechanisms, and thermodynamic information
Dr. Cris Print discussed growth areas for AI in health, including medical diagnosis, drug discovery, and medical treatment 
Dr. Brent Martin showcased the current AI applications within Manaaki Whenua - Landcare Research, including deep learning for computer vision, image classification, and object detection
If you missed the event and you have questions about how NeSI can support your research or you would like to experiment with machine learning using NeSI, you can apply for access to our HPC resources, visit our platforms page for more details on our computers, or connect with our computational science team to talk about AI options for your project.
Copies of the presenters' slides from the event can be viewed here.
NeSI would like to acknowledge and thank all of the speakers who joined us:
Dr. Rangan Sukumar, Senior Analytics Architect, Office of the CTO, Cray
Dr. Charles Siegel, Solution Architect, Artificial Intelligence, Cray
Dr. James Maltby, Artificial Intelligence Solution Architect, Cray
Per Nyberg, Vice President, Market Development, Cray
Dr. Jane Allison, Associate Professor and Rutherford Discovery Fellow, University of Auckland
Dr. Cris Print, Professor, Department of Molecular Medicine and Pathology, University of Auckland
Dr. Brent Martin, IT Solution Architect, Enviro-Mark Solutions Ltd; Computer Science researcher, Manaaki Whenua Landcare Research
Prof. Gill Dobbie, Professor, Department of Computer Science, University of Auckland
Prof. Thomas Lumley, Professor, Chair in Biostatistics, Department of Statistics, University of Auckland