Celebrating the science behind Aotearoa New Zealand's response to Covid-19
Aotearoa New Zealand's response to Covid-19 – a global success story in many ways – was achievable through collaborative research efforts, targeted modelling, rapid genome sequencing, and access to powerful eResearch infrastructure. A diverse swath of New Zealand's science ecosystem – including Te Pūnaha Matatini, the Institute of Environmental Science and Research (ESR), universities, Crown Research Institutes, NeSI, REANNZ, Genomics Aotearoa just to name a few – was called into action to support an integrated response.
Congratulations Te Pūnaha Matatini, the Aotearoa New Zealand Centre of Research Excellence for Complex Systems, who were recently awarded the 2020 Prime Minister's Science Prize.
Te Pūnaha Matatini was recognised for their work that developed a series of mathematical models, analysed data and communicated the results to inform the New Zealand Government's world-leading response to the global pandemic. Their transdisciplinary team contributed to Aotearoa New Zealand's COVID-19 response by bringing together researchers from the University of Auckland, University of Canterbury, Victoria University of Wellington, Manaaki Whenua Landcare Research, Market Economics, and Orion Health. For more information on their contributions, visit the Te Pūnaha Matatini website.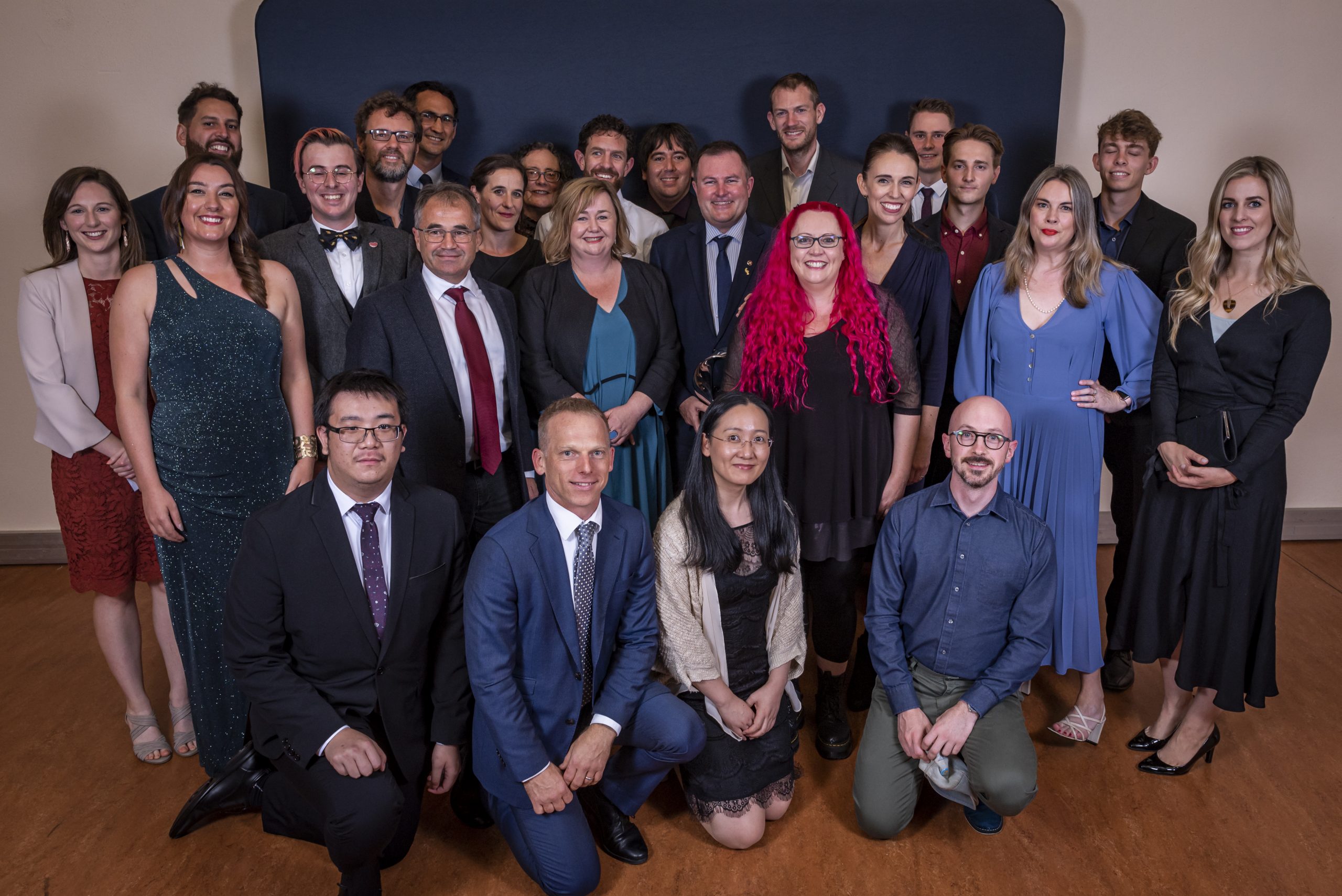 Pictured above: Te Pūnaha Matatini team members photographed with the Prime Minister and Minister Woods. Image sourced from the Prime Minister's Science Prizes website.
Earlier this year, NeSI, REANNZ, and Genomics Aotearoa hosted Dr. Shaun Hendy, Director of Te Pūnaha Matatini, and Dr. Joep de Ligt, Bioinformatics lead at ESR, for a special joint keynote presentation that shared a behind-the-scenes look at the different phases of the pandemic response. They discussed how the modelling data and genomics data were used in decision making, and explained how the models and technologies adapted to the growing knowledge of the virus and the changing environment of our response.
We're pleased to share the recording of Shaun and Joep's presentation, to recognise and celebrate the collaborative approach and efforts of New Zealand's science ecosystem who were called into action to support an integrated response.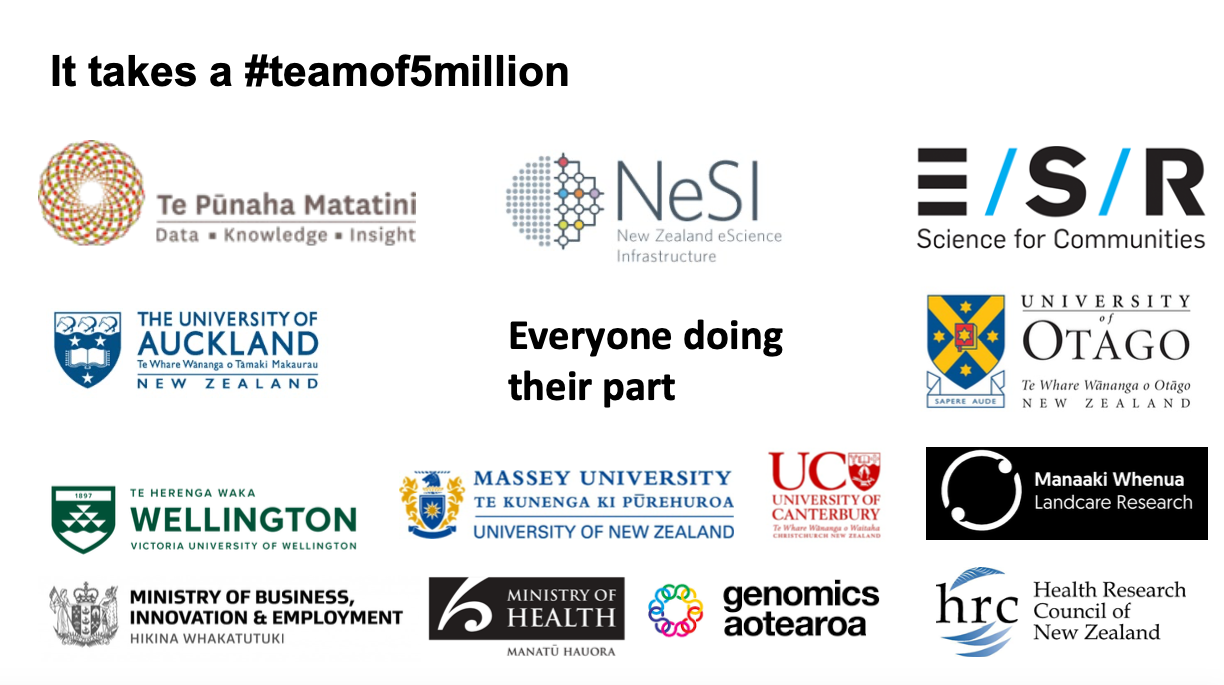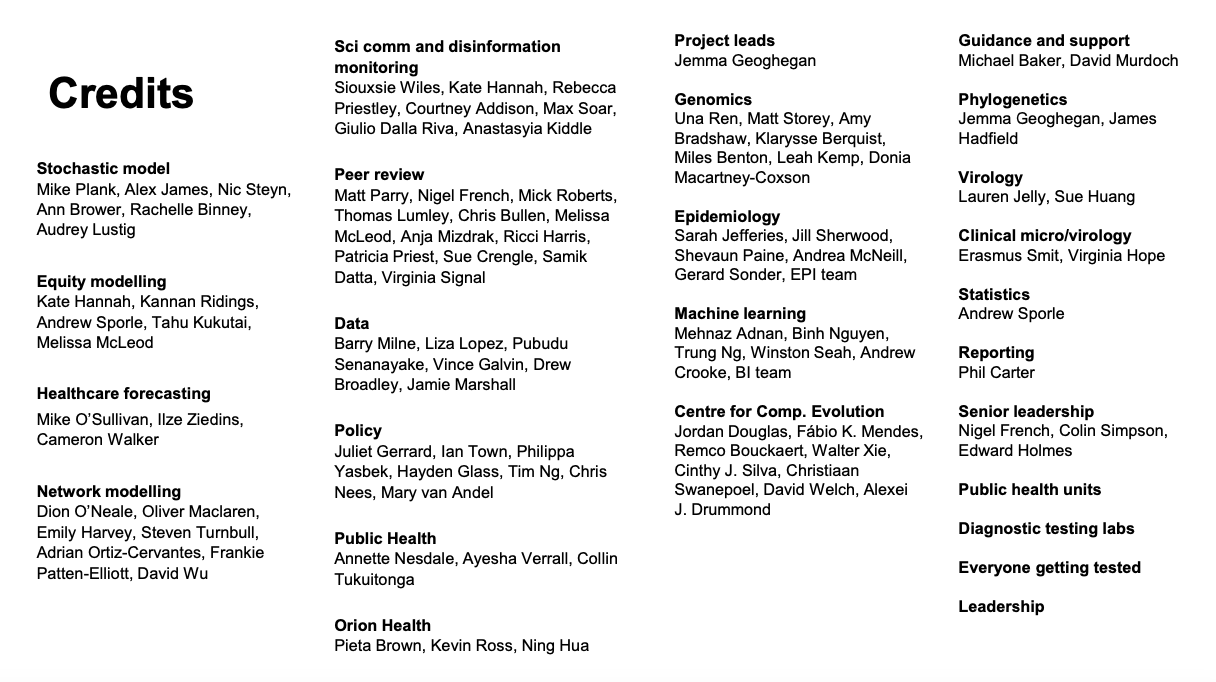 Attribution: 
Pictured are two slides from Shaun & Joep's keynote presentation, showing the scope and scale of effort across New Zealand's eResearch sector to support the Covid-19 response.
NeSI facilities and support services continue to assist research projects involved in New Zealand's Covid-19 response, allowing them to significantly scale up their investigations.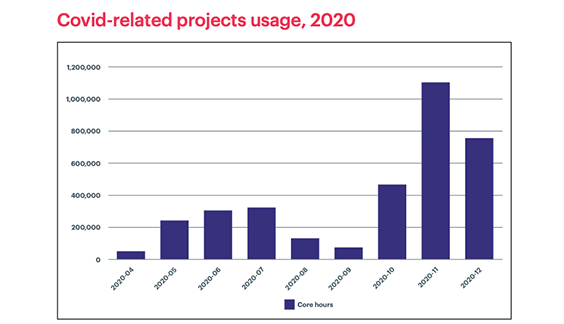 Attribution: 
From March to December 2020, three Covid-19 research projects used a total of 3.4 million core hours on NeSI's HPC Platform.
If you are involved in Covid-19 response work and your project could benefit from NeSI resources or support, please get in touch and we will do our best to assist in any way possible.