Seeking new training instructors to help New Zealand researchers build data science skills
Are you interested in helping researchers in New Zealand build foundational coding and data science skills? New spots have opened up to participate in The Carpentries instructor training workshop scheduled for October 14, 15, 21 & 22. The workshop is being delivered online (from 12:30 - 4:30 pm each day) and is free of charge. If you would like to put your name forward and improve your ability to teach others to code, complete this expression of interest form asap. (Please note that if selected to attend you will be expected to attend all four half-day sessions).
The Carpentries is a global program aimed at teaching data and computational skills for conducting efficient, open, and reproducible research. 
NeSI is committed to increasing diversity among the Instructor pool in New Zealand so we welcome and encourage applications from candidates with a variety of backgrounds. 
Training researchers to be Carpentries instructors enables research communities to run their own workshops and spread knowledge more effectively. Increasing digital literacy in New Zealand is a massive collaborative effort and the growth of programs like The Carpentries is a big step in the right direction.
Growing the instructor pool of Carpentries instructors in New Zealand is a big priority for NeSI and other institutional Carpentries members, the Institute of Environmental Science and Research (ESR) and the University of Otago. With a growing number of New Zealand institutions prioritising training, NeSI has been able to work collaboratively across the country to grow the national pool of instructors.
If you'd like to stay get involved or learn more about The Carpentries in New Zealand, email megan.guidry@nesi.org.nz for more information or sign up to the Australia / New Zealand Carpentries topicbox.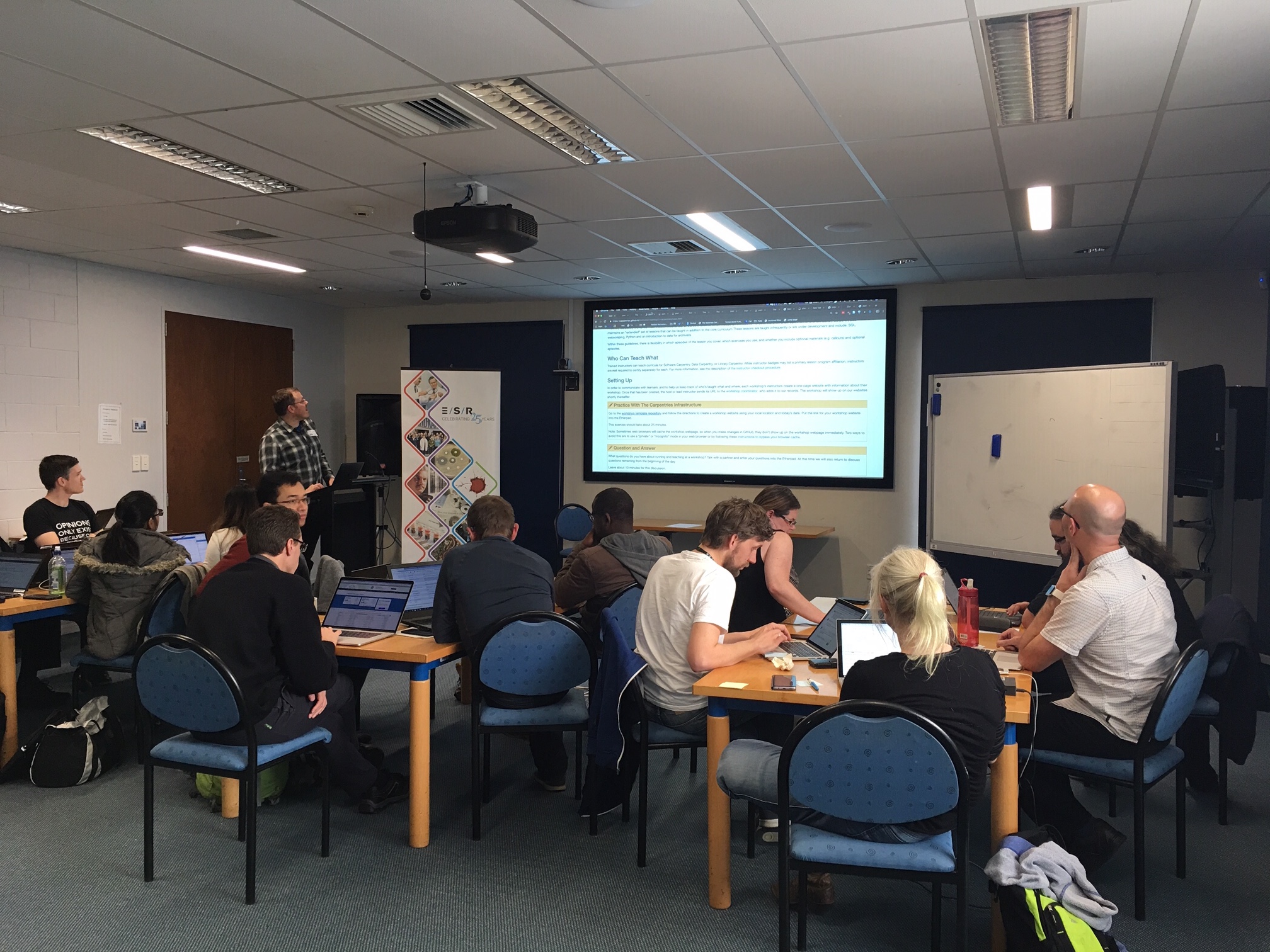 Attribution: 
Jonah Duckles leading a session for Carpentry Instructor Training participants at the May 2019 training workshop in Wellington.