Celebrating a successful inaugural New Zealand Research Software Engineering Conference
Thank you to all the speakers and participants who joined us online for the inaugural New Zealand Research Software Engineering (NZRSE) Conference. Hosted by NeSI, and endorsed by the RSE Association of Australia and New Zealand (RSE-AUNZ) and Science New Zealand, the two-day virtual event shared the tools, approaches, challenges, and opportunities related to writing code and developing applications that enable research.
This was the first time NeSI has delivered this kind of a conference online. Highlights included:
181 registrants and 34 speakers

Representation from 59 different organisations, 43 different cities, and 6 different countries (New Zealand, Australia, United States, France, China, Pakistan)

Representation from a range of different skill sets, sectors, and affiliations, including:

Software engineers & system admins working in the research domain

Generalists who bring together the research and technical domains

Developers, IT managers, coding enthusiasts, and big data analysts from CRIs, universities, and other public sector organisations
"It was really cool to see technology help us get over the geographic barrier becuase we've never seen these numbers for this conference before," said NeSI Research Communities Advisor Nooriyah Lohani.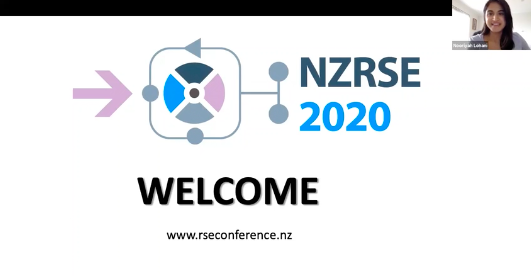 Attribution: 
NeSI Research Communities Advisor Nooriyah Lohani welcoming attendees to the virtual event.
The keynote speakers this year were Dr Hilary Oliver, Senior Research Software Engineer at NIWA, and Dr Denis Bauer, head of cloud computing bioinformatics at CSIRO, who both gave interesting and insightful talks.
Hilary spoke about scaling in two ways: his own experience in using workflow orchestration to get better use of the hardware, and in scaling a small research software project up to a much bigger one with critical large-scale production use. Watch the recording here.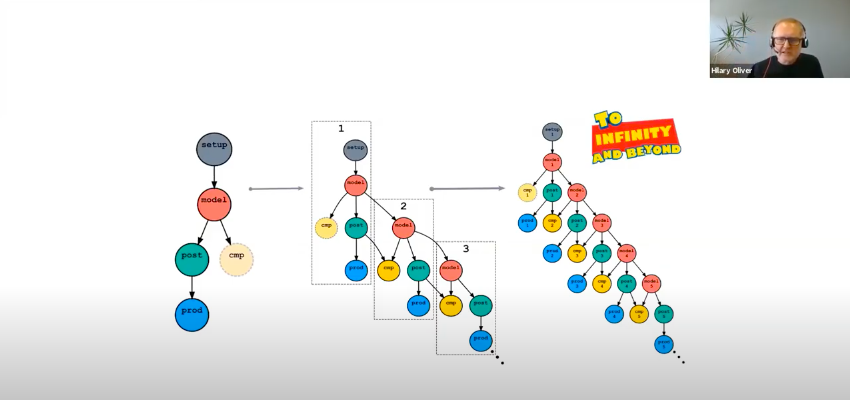 Attribution: 

Dr Hilary Oliver from NIWA presenting at the NZRSE 2020 Conference.
Denis' presentation looked at digital health and the use of technology in disease preparedness, focusing on how CSIRO has leveraged cloud-native technologies to advance three areas of the COVID-19 response. Watch the recording here.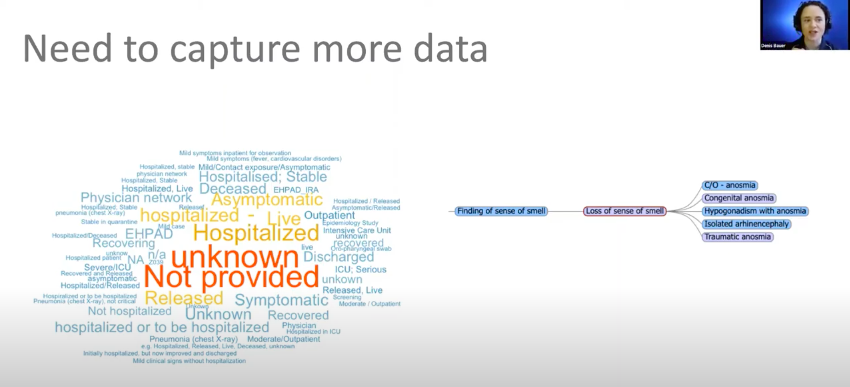 Attribution: 

Dr Denis Bauer from CSIRO presenting at the NZRSE 2020 Conference.
The main programme featured presentations, lightning talks, and demos of tools and project outcomes from all corners of New Zealand's RSE community. Recordings from all the sessions have been uploaded to NeSI's YouTube channel. The presentation slides will be added to Figshare soon. 
"I really enjoyed the energy of the event and the presentations I saw," said NeSI Director Nick Jones as part of the closing remarks. "It's wonderful to see this commuity growing from stength to strength."
The closing remarks not only wrapped up the NZRSE main event, but they were also used to announce the winner of NeSI's pre-conference Hackathon.
Run over five days and using a dataset contributed by the NZ Centre for Earthquake Resilience (QuakeCoRE), the Hackathon challenged 34 participants to develop a model that would accurately predict the number of core hours required to run QuakeCoRE's ground motion simulation jobs.
The winner of the Hackathon was Nick Young, from the University of Auckland's Centre for eResearch. Watch for a write-up on his approach and solution, to be published in NeSI's Case Study collection. 
Looking ahead to next year's NZRSE Conference, NeSI asked attendees if they'd prefer to have an event entirely in-person, entirely online, or a mix of the two. The results from that post-event survey showed:
72% preferred a hybrid online/in-person event
16% preferred entirely online
8% entirely in-person
The survey also put out a call for speaker suggestions and invited RSE community members to help the conference organisers broaden the range of speakers and perspectives at the next event. 
"We realise it takes effort to ensure that the NZ RSE community is open, inclusive and welcoming to all. We want to make that effort, not only because it's the right thing to do but because this will ensure we create a sustainable thriving community that incorporate diverse perspectives," said Nooriyah in the closing remarks. 
If you have ideas or requests for any Keynotes or other speakers we could invite to next year's event, email your suggestions to events@nesi.org.nz. 
Lastly, NeSI would like to thank the NZRSE Conference 2020 Programme Committee, for the hours they contributed to planning meetings, abstract review, virtual platform testing, and sharing of ideas to make this year's event a success. Thank you:​
Megan Guidry – Research Communities Advisor, NeSI
Nooriyah Poonawala-Lohani – Research Communities Advisor, NeSI
Dr Eryn Kwon – Teaching Fellow, University of Auckland

 

Dan Sun – HPC Specialist, AgResearch
Dr Jacquie Tran – Senior Insights Researcher, High Performance Sport NZ
Dr Celine Cattoen-Gilbert – Hydrological forecasting scientist, NIWA
Dr Ann McCartney – Postdoctoral Fellow, Manaaki Whenua Landcare research
Dr Arindum Basu – Associate Professor, University of Canterbury
Justin Baker – Data Analytics & Visualisation Team Lead, CSIRO
Laura Furse – Event and Conference Planner, University of Auckland
Also thank you to all of the NZRSE speakers and attendees who attended virtually. Overall, the post-event survey feedback has been very postive: 
"Enjoyed the online platform, which worked very well as a second best option to meeting in person. Lots of interesting talks."
"The random networking was surprisingly fun!"
"The online platform enabled more people to participate than ever, including people from Australia and the US, which added to the diversity of topics."
"I enjoyed the breadth and diversity of topics - it was great to learn about other researchers facing similar challenges to those I face in my day-to-day work. The demonstration talks were also useful for learning about different software tools and packages."
To connect with others in New Zealand's RSE community or learn more about ongoing initiatives to build the RSE communities in both New Zealand and Australia, visit the RSE-AUNZ website.
The next NeSI event where you can connect with RSEs will be eResearch NZ 2021, coming to Wellington from 10-12 February 2021. The call for submissions is now open! Visit the eResearch NZ 2021 website for more details.