Digital skills training takeaways from eResearch NZ 2020: Important topics raised & new connections made
More and more people in academia are speaking out about the eResearch capability gap. Many researchers do not know where to turn for help in managing, processing, and publishing large amounts of data and institutions as a whole are unsure of how to offer support that is both effective and scalable. The result is a demand for digital skills training much higher than our collective ability to deliver.
Fortunately there is a growing community of local leaders who are discussing all facets of this challenge, many of whom gathered at eResearch NZ 2020. This article highlights my main takeaways as NeSI's Research Communities Advisor and Regional Coordinator for The Carpentries in New Zealand, namely:
Properly acknowledging those that take on the role of 'researcher trainer' is more difficult than it looks, with responsibilities spanning across multiple institutions and individuals.  What are our current successes and challenges in this space?

Distinct training interest groups with focused goals are emerging within the New Zealand / Australia Community. What is the focus of these groups and how can they maintain momentum?

Many trainers appreciate the opportunity to connect and network with other fellow trainers. This sentiment is reflected in the positive feedback from the the 34 attendees of New Zealand's first ever Carpentry Connect — a community building event for people involved with or interested in The Carpentries, a global program to teach foundational computational and data management skills to researchers.
This article is a resource for interested researchers and local champions wanting to stay up-to-date on where NZ stands in terms of increasing digital skills training opportunities for researchers. Of course, it is not a comprehensive list of activities, successes, and challenges so I encourage anyone to email training@nesi.org.nz if you want to discuss these (or other) topics further.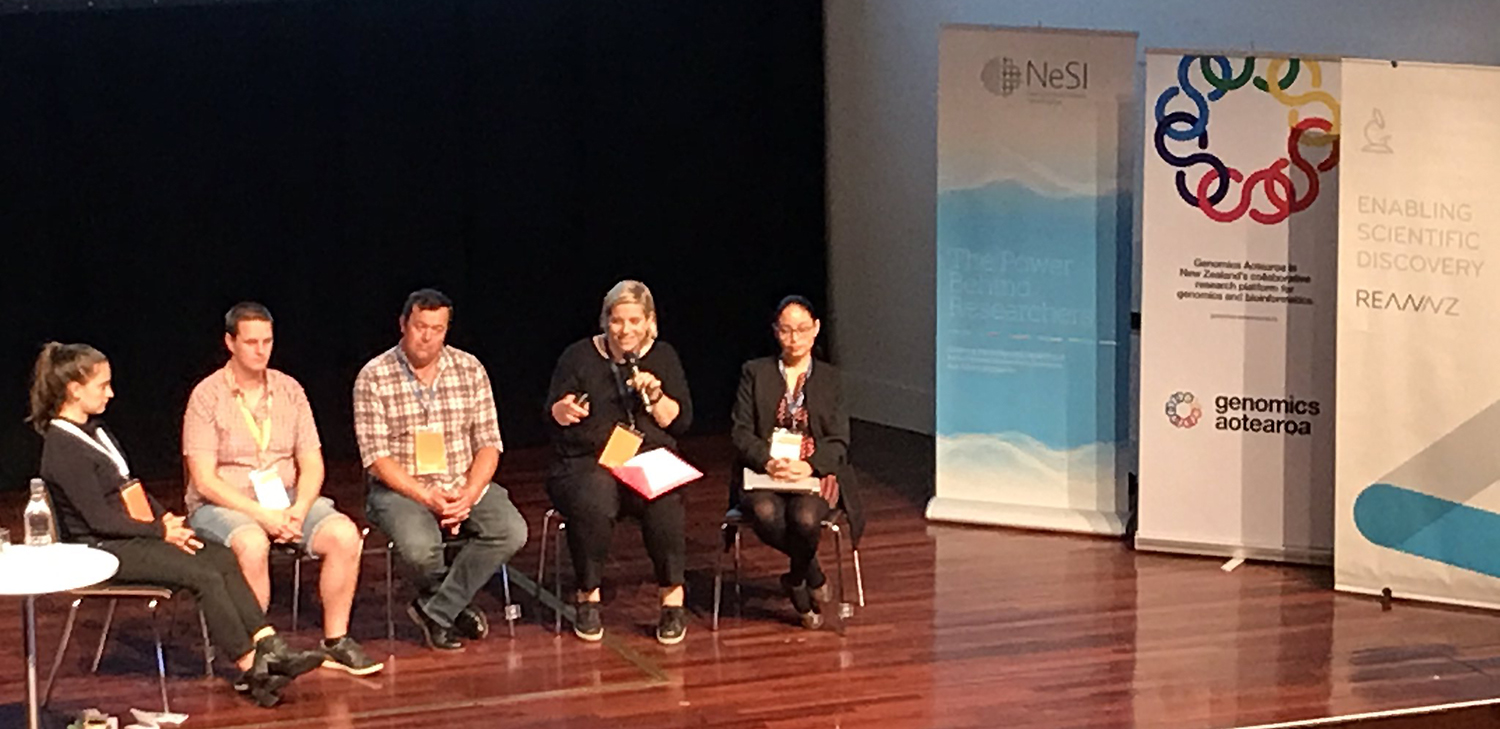 Attribution: 
NeSI Research Communities Advisor Megan Guidry (at left) participating in a BoF on digital skills training in New Zealand.
Acknowledging research trainers - a multi-layered challenge
NeSI, the Institute of Environmental Science and Research (ESR), the University of Otago, and Genomics Aotearoa collaborate each year to offer Carpentries instructor training workshops for individuals interested in delivering foundational digital skills training at their local institution (click here to read a summary of one of last year's instructor training events). It teaches attendees best practices for running live-coding workshops, introduces them to a support network of fellow instructors, and supplies attendees with pedagogical knowledge that spurs continued growth as an instructor. 
Last year, 33 people attended this training, with 87% going on to help or instruct at a local Carpentries workshop. This is certainly a statistic worth celebrating, though it does not reflect the huge amount of effort it takes for a new trainer to plan, coordinate, prepare for, and deliver a workshop — more often than not taken on in a volunteer capacity. Our challenge as a community, then, is to encourage local institutions to support the people who are spending their spare time upskilling its researchers. 
What might help these new trainers? Some basics include: creating dedicated training roles, relying more on paid work and less on volunteer hours, and offering adequate career pathways so talented trainers stay within our research ecosystem. 
The University of Otago is an example of how successfully supporting local researcher instructors can have far-reaching benefits. Currently, they are the only university in New Zealand with a Carpentries membership and were responsible for roughly 40% of all Carpentries workshops in NZ in 2019. They are able to do this, in large part, because the enormous effort of coordinating and executing workshops is incorporated into one FTE position that is distributed between two individuals — Murray Cadzow and Matt Bixley. This work is in addition to numerous hours contributed by other volunteers who assist both in the lead-up to and on the workshop days. Overall, training has been identified as a priority at the University of Otago and has been resourced accordingly. The result is a huge spike in training opportunities for researchers at that institution, and lots of momentum moving forward for the local training community. 
Training interest groups emerge at eResearch NZ 2020:
HPC Carpentry
For a while now, a partially complete High Performance Computing (HPC) Carpentry curriculum [http://www.hpc-carpentry.org/] has been on the radar of many people in the Carpentries community. Developing HPC skills has a particularly high learning curve since using a shared computing resource is often unlike any work a researcher has done on their own computer. A beginner-friendly introduction to HPC skills is missing. Fortunately, a group of people have expressed interest in forming a HPC Carpentry working group aimed at running this kind of a workshop in NZ sometime in 2020. This is likely to require developing and editing material, trialing the workshop, etc. If you want to be a part of the process, please email training@nesi.org.nz.
Micro-credentials
While micro-credentials is not a new topic for eResearch NZ, some recent developments have made it more relevant than ever. In a Birds-of-a-Feather (BoF) session at eResearch NZ, Jonny Flutey from Victoria University of Wellington shared that at the end of 2018, the New Zealand Qualifications Authority (NZQA) put in place a mico-credential accreditation process that allows non-tertiary education organisations (non-TEOs) and others to submit micro-credential proposals for assessment. In other words, institutions, including universities and Crown Research Institutes (CRIs), can develop focused, mini-courses that have the potential to be recognised by the NZQA as a university-level qualification. 
This means New Zealand's eResearch sector could collaborate to develop micro-credential modules that fill the skills and knowledge gaps we are gradually uncovering within the community (gaps that are very difficult to address in university curriculums). Check out the NZQA guidelines for more information on the micro-credential application and assessment process.
Some potential benefits of pursuing the development of micro-credentials in the eResearch sector include:  
Creating clear learning pathways and opportunities for the lifelong learning of researchers

Encouraging workplaces to be proactive in providing/ developing professional development opportunities that are most relevant to their staff

Providing underappreciated groups within the eResearch sector an opportunity to demonstrate their diverse (and highly sought after) skills — The Research Software Engineer (RSE) community came to mind for me.
Micro-credentials could be a way for professionals who are not necessarily in the market to get a degree (or another degree) to upskill and get credit for skills that are notoriously difficult to define.  
Jonny's BoF at eResearch NZ provided a great opportunity to discuss the pros and cons of developing micro-credentials in the eResearch sector and the input from the 20+ attendees was overwhelmingly positive. An interest group has formed for those wanting to stay up-to-date on this topic in NZ, if you are keen to join please email training@nesi.org.nz so that you can be involved in follow-up conversations.
Looking forward to next year
Overall, I found eResearch NZ 2020 to be a really valuable event from a training community perspective, with lots of new connections made, important topics raised, and interesting ideas shared. I left feeling very inspired! 
Looking ahead to next year, eResearch NZ 2021 is heading to Wellington, the headquarters of co-host REANNZ. I'm excited to see what the NZ training community accomplishes between now and then!