Building communities: CRI Coding Conference 2016
COVID-19 Essential Service
NeSI remains open for normal business during Alert Level 3 in Auckland and Alert Level 2 outside of Auckland. Our team is working remotely in Auckland and everyone remains available during this time.
NeSI is a supplier of essential services to research teams working on the COVID-19 response across NZ. If you're involved in this work, p
lease get in touch and we will do our best to assist in any way possible.
For more information see: 
NeSI resources and services remain available during Alert Levels
NeSI, in conjunction with Science NZ, recently hosted a two-day event bringing together software developers from Crown Research Institutes (CRIs) around the country - the 2016 CRI Coding Conference. The conference was held at NIWA headquarters in downtown Auckland on August 2nd and 3rd and had representatives from six of the eight CRIs in attendance.
Access to digital tools is revolutionising research globally and this is true for researchers within New Zealand's CRIs. This digital revolution in research exploits the developments of new hardware technologies (and the commonly referred to "Moore's Law"), yet taking advantage of these changes in hardware depends on advancement of the Research Software Engineer or scientific 'coder' community. There is an evolving recognition of the importance of those in Research Software Engineer roles with the first conference aiming to develop this community internationally taking place in Manchester next month.
The aims of our own event were simple - give Research Software Engineers the opportunity to 'talk shop' with those in similar roles across research organisation: meet people, share ideas and learn. Sessions covered everything from Open Source Software to High Performance Computing, automated testing, and integration into Cloud computing. It also included a particularly well received interactive session on 'the dark arts of requirements gathering' where people's varying opinions on software development practices and processes were celebrated.
One of the final sessions was a workshop on how we can nurture this community in the future. The resounding conclusion - more of these events - so we will be moving into planning for a 2017 event soon!

Attribution: 
Aleksandra Pawlik (NeSI - Research Communities Manager) talking about training.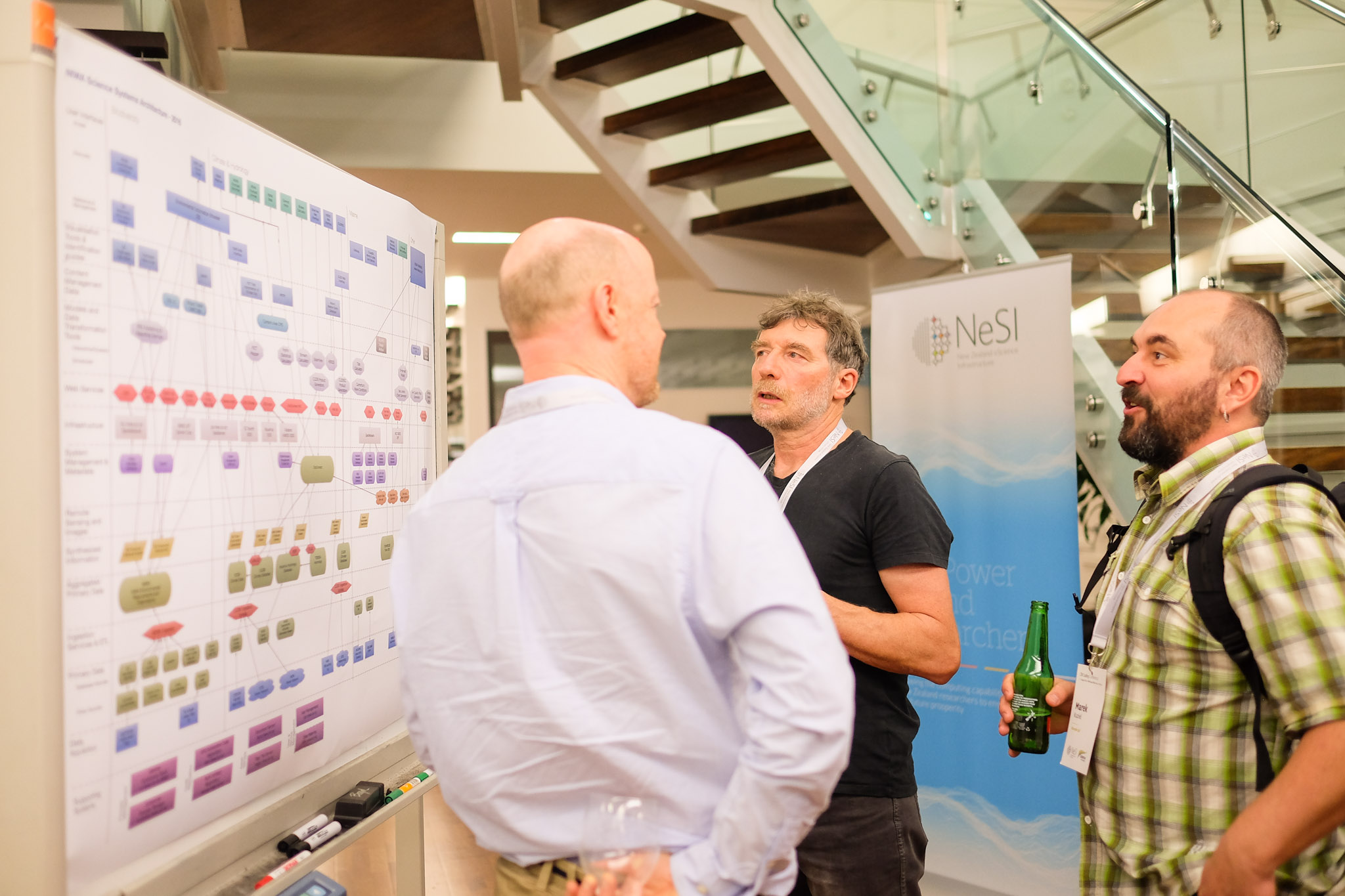 Attribution: 
Andrew Watkins (NIWA - General Manager of Information Technology) discussing NIWA's information architecture poster with Paul Smale (AgResearch) and Marek Kuziel (Encode Ltd).

Attribution: 
Building relationships at the Poster reception on day one.