Save the Date: NeSI's Science Coding Conference coming to Auckland 9-11 September
Now in its fifth year, NeSI's Science Coding Confernece is one of the few opportunities where scientific programmers, software engineers, IT managers, coding enthusiasts, and big data analysts from across disciplines can gather in one place to share and discuss how they're supporting New Zealand's research ecosystem.
In 2020, the event is coming to Auckland from 9-11 September 2020 and will feature a programme of speakers and sessions that drive discussions on tools, techniques, processes, and challenges associated with writing code and developing applications to support and advance science.
The 2020 Organising Committee includes:
Nooriyah Lohani - Research Communities Advisor, NeSI
Megan Guidry - Research Communities Advisor, NeSI
Dr Eryn Kwon – Teaching Fellow, University of Auckland
Dan Sun – HPC Specialist, AgResearch
Dr Jacquie Tran – Senior Insights Researcher, High Performance Sport NZ
Dr Celine Cattoen-Gilbert – Hydrological forecasting scientist, NIWA
Dr Ann McCartney – Postdoctoral Fellow, Manaaki Whenua Landcare research
Dr Arindum Basu – Associate Professor, University of Canterbury
The Call for Submissions is expected in the next month or so, as well as an announcement of the location within Auckland.
To stay updated on Science Coding Conference news, sign-up here to receive email updates via NeSI's mailing list (check the interest box "NeSI-organised conferences (ie. eResearchNZ, Science Coding, etc.)", as well as any other topics you're interested in receiving updates about!)
To read a recap from last year's event (pictured below), which was hosted in Christchurch, click here.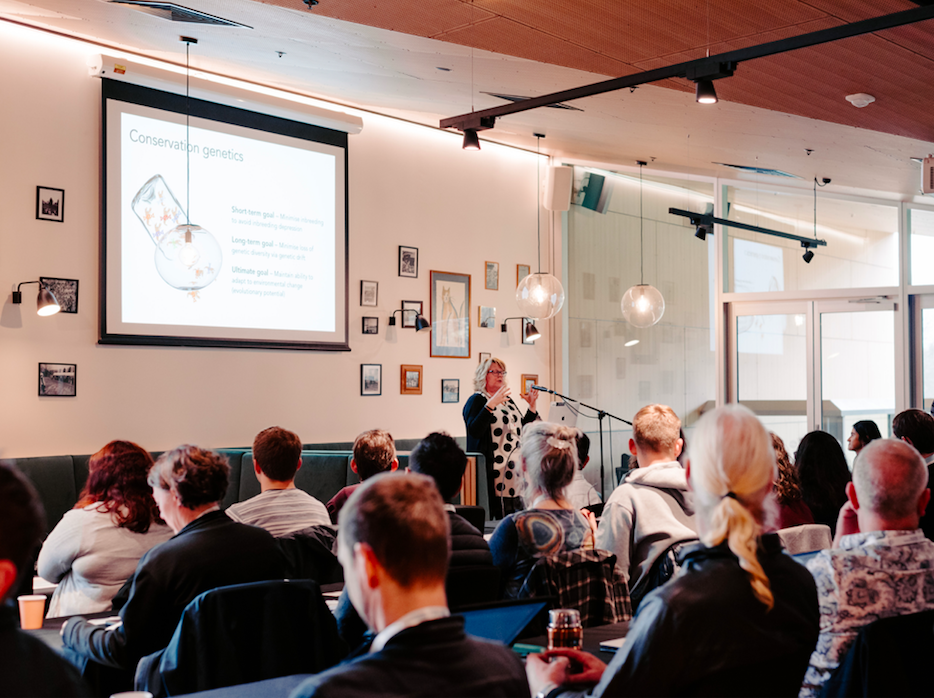 Attribution: 
Tammy Steeves from the University of Canterbury speaking on computational needs in the conservation genomics domain.