Women in HPC Australasia community continues to grow
Following the launch of the Women in HPC Australasia Chapter in October, the initiative's reach has grown with new channels and ways for community members to connect and contribute to the Chapter's activities. NeSI is proud to be one of the founding organisations alongside NCI Australia, Pawsey Supercomputing Centre, Monash University, and the Australasian eResearch Organisations (AeRO).
The initial goals of the Chapter include:
identifying opportunities and future activities to improve diversity, inclusion, balance and belonging in HPC and eResearch
increasing the engagement of women in HPC
increasing the number of women in HPC
fostering collaboration and connections amongst existing diversity and inclusion initiatives
With those goals in mind, attendees of the launch event were asked to contribute to a brainstorm of ideas for activities and priorities for the Chapter in 2021. A wide range of suggestions were raised, including hosting networking events, enabling more sharing of resources, creating safe spaces for discussion, and supporting a mentorship program. 
Seeking your feedback
During 2021, the Chapter Organising Committee intends to focus on coordinating and delivering 1-2 key activities or inititaitives. To help decide what those should be, they are asking community members to complete a short survey and rank the ideas shared at the launch event's brainstorm. 
Click here to complete a short survey and vote! 
Connect with the community
We invite you to join the new Chapter's new channels and spaces online:
NCI Australia has been hosting fortnightly Zoom catchups, offering a friendly, casual and safe space for community members to connect and chat. The final session for 2020 was hosted on 16 December and a new schedule of calls will be re-started in January. To be notified when the registration link for those calls goes live, email WHPC@aero.edu.au. 
Join the WHPCAusNZ Slack channel! Click here to join and feel free to invite others to join as well!
Are you on Twitter? So are we! Follow @WHPCAusNZ and use #WHPCAusNZ in any tweets!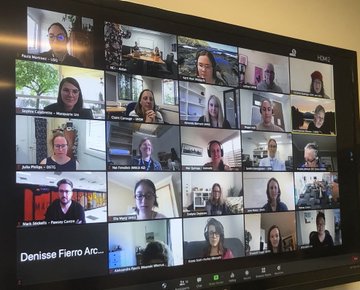 Attribution: 
More than 40 people connected to the WHPCAusNZ Chapter's virtual kickoff in October (pictured above). Since then, the Chapter has been hosting regular Zoom catchups and is helping community members connect via Slack and Twitter.
Meet the Committee
The WHPC Organising Committee is comprised of the following member organisation representatives:
Jana Makar and Megan Guidry – New Zealand eScience Infrastructure (NeSI)
Kerri Wait – Monash University
Aditi Subramanya – Pawsey Supercomputing Centre
Aidan Muirhead,  Adam Hunter-Koros and Lucy Guest – National Computational Infrastructure Australia
Loretta Davis and Jenni Harrison – AeRO – Australasian eResearch Organisations
The committee aims to meet monthly and will be using feedback from its community survey to set its priorities for initiatives to deliver in 2021. 
Questions?
If you have any questions or would like more information on the WHPC Australasian Chapter, email WHPC@aero.edu.au.