Marking 25 years building capacity in essential data and computational skills
In July 1998, a workshop was held at Los Alamos National Laboratory to teach researchers how to work more effectively with their data. Today, 25 years later, the idea behind that workshop has grown into The Carpentries -- an international community buiding capacity in essential data and computational skills for conducting efficient, open, and reproducible research. 
In July 2023, The Carpentries launched a campaign to celebrate its 25th Anniversary and from August to December 2023, they are spotlighting regions of the world each month to demonstrate the contributions and impact of its global community. New Zealand and Australia were featured in August. 
Empowering New Zealand's Research Community
New Zealand's involvement with The Carpentries has early roots and has evolved and expanded in many ways since then. NeSI was The Carpentries' first member organisation in New Zealand, joining in 2015, and the University of Otago holds company with NeSI and Macquarie University in Australia as the region's top three long-standing Carpentries members.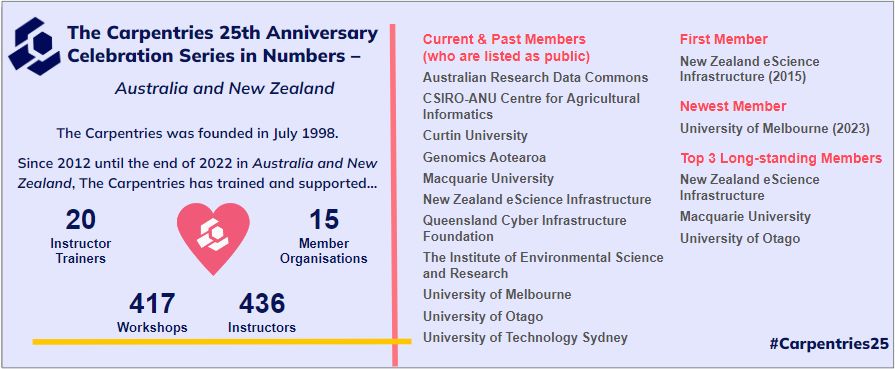 Within Aotearoa, the partnership between NeSI and The Carpentries has been one of the most significant catalysts in supporting NeSI's mission to help researchers, institutions, and universities in New Zealand to conduct successful research by providing expertise and capability in computational and data intensive research. 
NeSI renewed its Platinum Membership this year as a Carpentries Member Organisation. We're excited to continue buildng on this collaboration to further develop the pool of certified Carpentries Instructors in New Zealand and support the long-term sustainability and scalability of training programmes across the country.
Click here to read a longer reflection on NeSI's partnership journey with The Carpentries.
Last month, Nisha Ghatak, NeSI's Research Communities Advisor - Training, joined fellow Carpentries community members in Australia and Carpentries Director of Community, Alycia Crall, for a Zoom panel discussion on the growth, contributions and impact of The Carpentries in our region.
A recording of that chat can be viewed below or on YouTube.  
Upcoming community spotlights
The 25th Anniversary celebrations and community spotlights are continuing until the end of the year. Each month's regional focus will include a virtual event with community members from each region: 
Africa - 28 September / 11:00 pm NZDT - Register
Latin America - 

October 

Europe and North America - 

November

Asia - 

December
Register here to receive updates on these events.
Learn more about The Carpentries
The Carpentries comprises the Software Carpentry, Data Carpentry, and Library Carpentry communities of Instructors, instructor trainers, lesson maintainers, workshop helpers, supporters, and learners.